Menomonee River
September 8, 2018
According to Wikipedia: "The Menomonee River is 33.0 miles (53.1 km) long, with a watershed that covers approximately 140 square miles (360 sq. km.) of urban landscape and is home to a population of more than 336,670 people. This includes portions of Washington, Ozaukee, Waukesha, and Milwaukee counties. A large swath of the river has been heavily channelized and industrialized as it runs through the Menomonee Valley. This has become a primary source of pollution for the river. Its estuary empties into Lake Michigan from the Milwaukee River near the Milwaukee harbor, along with the Kinnickinnic River to the south."
The Menomonee seldom runs high enough for paddling, but after plentiful rains it served up perfect conditions. Riffles, wave trains, a bit of flatwater, enough obstacles to make it interesting, and a few moments needing technical skills made for a very pleasant outing. At this level, the river rewards those with good maneuvering skills but won't trash a less-experienced paddler; that said, it isn't for beginners. This trip, for this canoeist, was perfect. It was also a great way to celebrate my 69th birthday.
A couple of previous trip reports alerted me to the minimum level for paddling, as well as what I might have to contend with on the river. You can check them out on Milespaddled.com, here and here. [Note: each link opens in a new window.] This report also appears on that site, though formatted differently. The video in the Milespaddled.com's version of this trip report gives a pretty good idea of what the river is like, except that when I ran it, it was running 40% higher, with a corresponding increase in current and wave height. There's also a magazine article on the river. These reports describe the river environs, so I won't go into that.
The 4.5-mile bike shuttle is very pleasant. The Menomonee River Parkway follows the river. It has two parts, a two-lane road with parking on both sides, and a separate paved multi-use path. Although it crosses several major streets - with stoplights - it's a very nice ride.
Several times while on the river I recalled the previous trip report's mention of odd smells, something I'd read about earlier from others. However, as much as I sniffed around for anything industrial or otherwise pollutant, I found nothing.
If you'd rather just look at the pictures, scroll down to the section "The illustrated trip report."
Some technical stuff
The river gradient over the five miles of this trip is 9.6 ft/mile. In places, the slope is clearly visible from places on the shore. Also, the river has some pool-drop aspects, given that there are several ledges, the largest of which is about two feet high.
The USGS gauge showed the river was running at 375 cubic feet per second (cfs), which I thought was just perfect. Only a few places were shallow enough to scrape with my paddle. According to the other trip report for this river, 250 cfs is the minimum level. I'd say the maximum flow rate for reasonably safe paddling would be about 600 cfs. I've watched the river come down from over 2,000 cfs, and it still seemed too fast at 1,000. It could be OK at 800, but it still might be too pushy, so I'd hesitate to paddle it solo. I'd want someone on hand in case of a dump.
I rate the river at Class II at this flow rate because of many standing waves requiring a high brace, many places requiring good maneuvering skills (to avoid obstacles and stabilize through wave trains), and many opportunities to execute a backferry There are few places to eddy out, but because the river was fairly unobstructed, they weren't needed. In case of a capsize, rescue could be difficult because of the speed of the current. Paddling solo, self-rescue could be particularly difficult. I suspect there's a high risk of foot entrapment due to the many rocks along the entire length of the river. All of these factors contribute to my rating.
There's one aspect of this river that calls for caution: there are few places to eddy out in case of a problem. Although variations in width create a lot of standing waves, they don't provide many eddies to take refuge in. I can easily imagine obstacles that could require scouting, and the lack of eddies means there's no place to do that from. Also, in many places there are stone walls instead of riverbanks, and with a fast current you need to be careful to look well ahead for obstacles. On the other hand, these factors preclude the development of cross-currents, which appear in only a few places that call for backferrying.
Time
The trip took all of 1:20, paddling nonstop.
Wildlife
I saw the usual wildlife: a great blue heron, a green heron, and several flocks of mixed mallards.
Overview
It was a blast! Standing waves, maneuvering around obstacles, seeing wildlife, a partly sunny day in the low 70s - what's not to like? The river was quite lively - fast but not pushy. I was fully occupied the whole time, except in a few quite places where I could drift long enough to get a drink of water.
At this flow level, the Menomonee River is arguably a Class II stream. It has many stretches of whitewater, by which I mean standing waves of a foot or more, with one short stretch of two-footers below a two-foot drop. I was expecting a lot of deadfall, and there was (as the pictures show). But I was surprised that there were no sweepers or strainers that required either pulling over or portaging.
The previous trip report described in lurid detail a series of logjams upstream from Mayfair Rd. I'm not into that kind of fun so I put in below them, just east of Mayfair Rd. (GPS: N43.084171, W-88.046396). Parking is on Woodward Dr. or another one of the adjoining side streets.
The previous report described a "commando" take-out at a set of three old bridge abutments. That would have been possible, except there is a large river-wide sweeper just upstream that I don't think could be passed by a solo paddler. So I found a spot further upstream, which involved dragging up a short, steep, overgrown bank. This was at Jacobus Park, just opposite a driveway on Honey Creek Parkway (GPS: N43.042785, W-87.994300).
The illustrated trip report
Three modes of transport.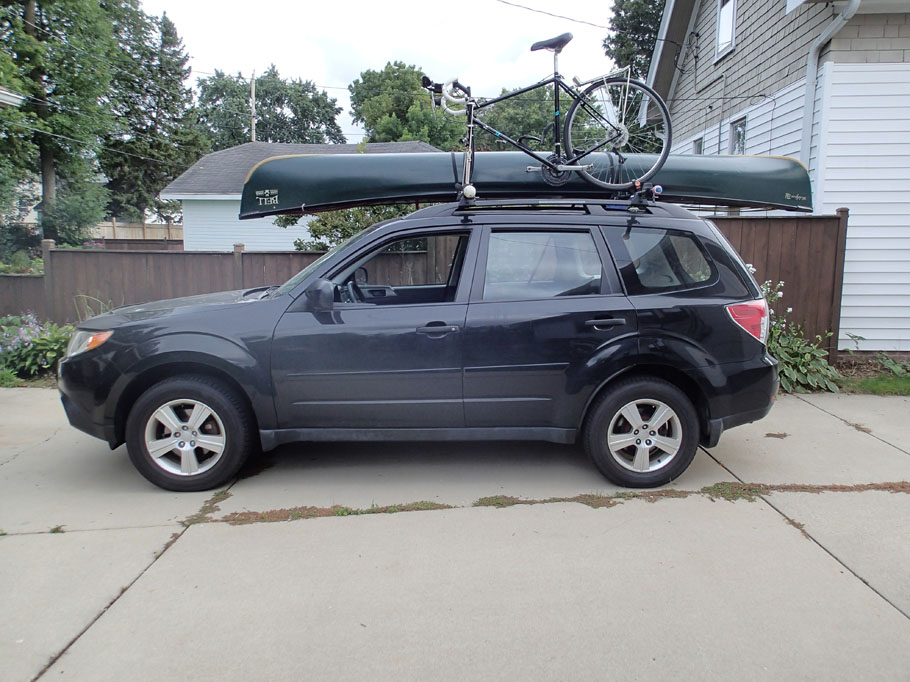 There are a couple of really gnarly trees where I put in. This one is about four feet in diameter.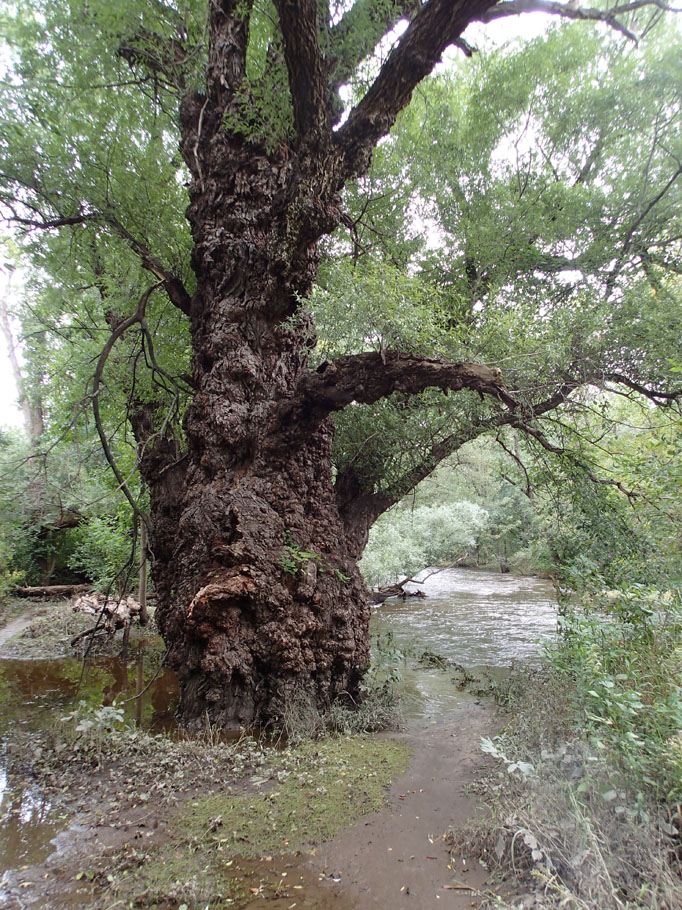 The put-in was somewhat flooded, just dry enough to be walkable but wet enough to be messy.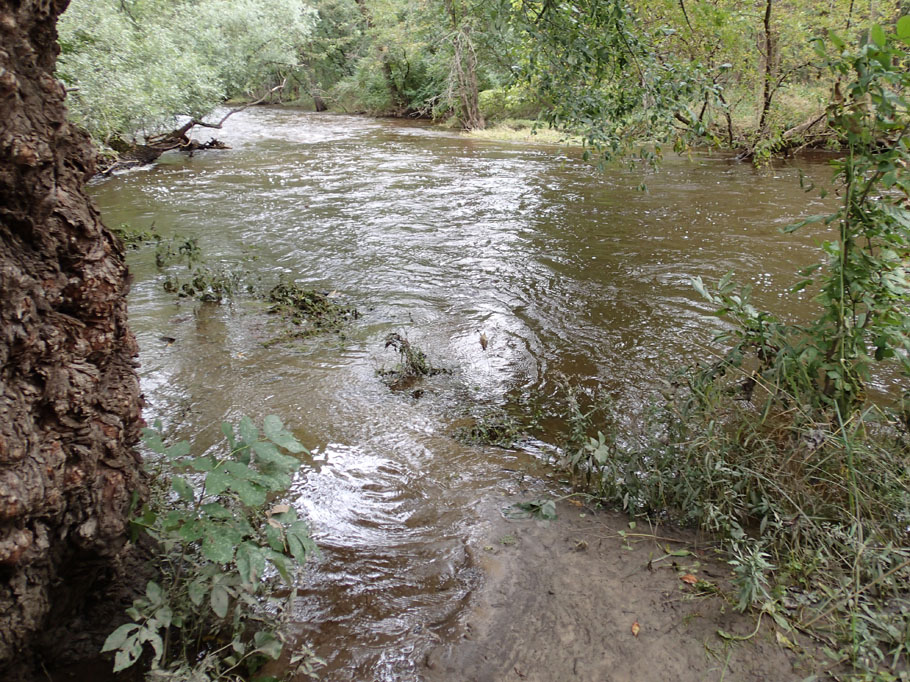 As soon as I was afloat, I was swept along in the 3-4 mph current.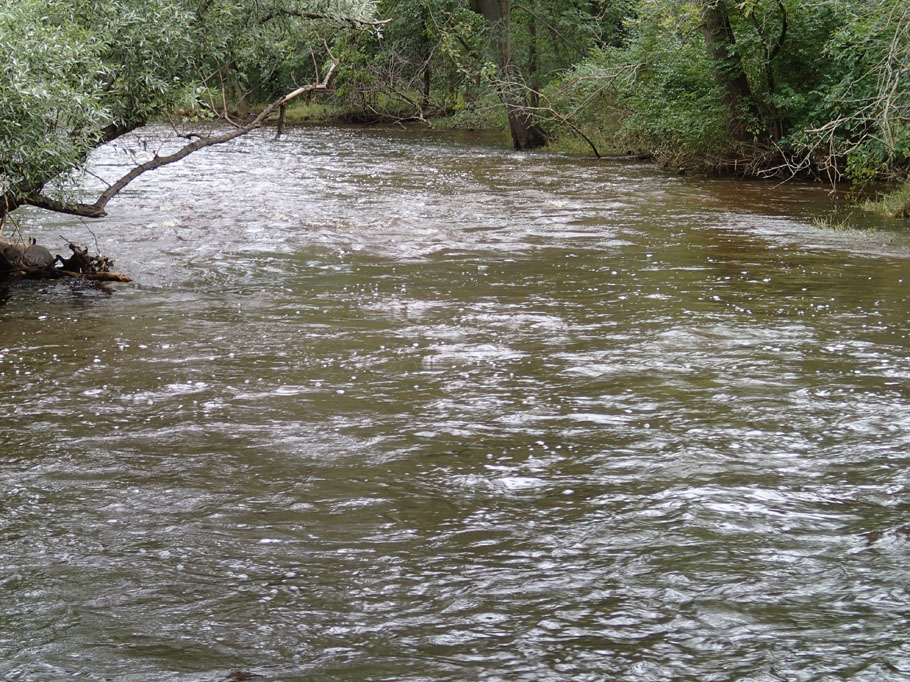 Flatwater north of Burleigh St.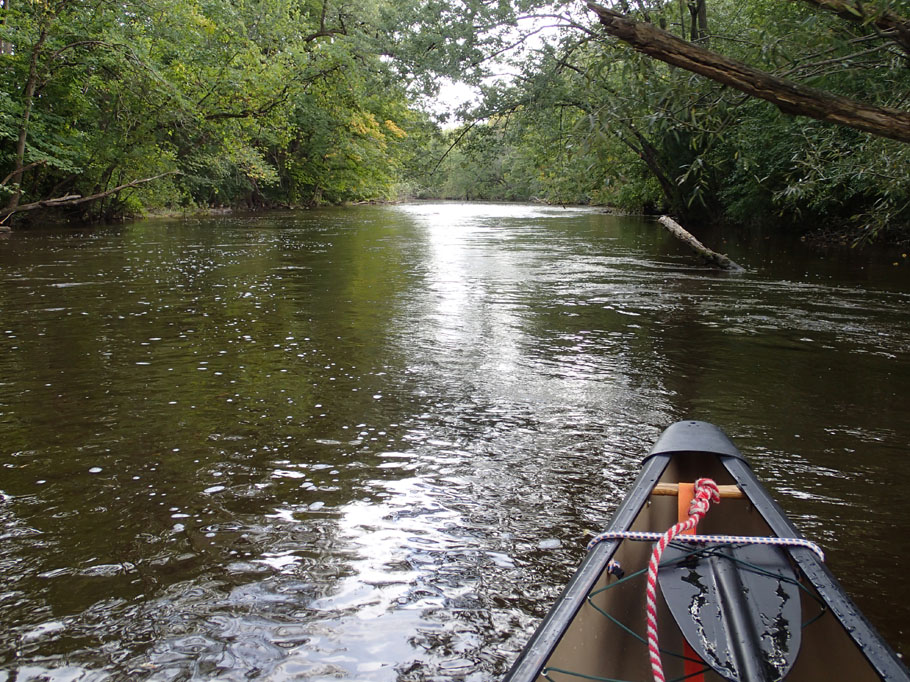 The river alternates among stretches of flatwater, riffles and rapids. Early in the trip I bounced through a series of two-foot waves following a ledge that was about the same height.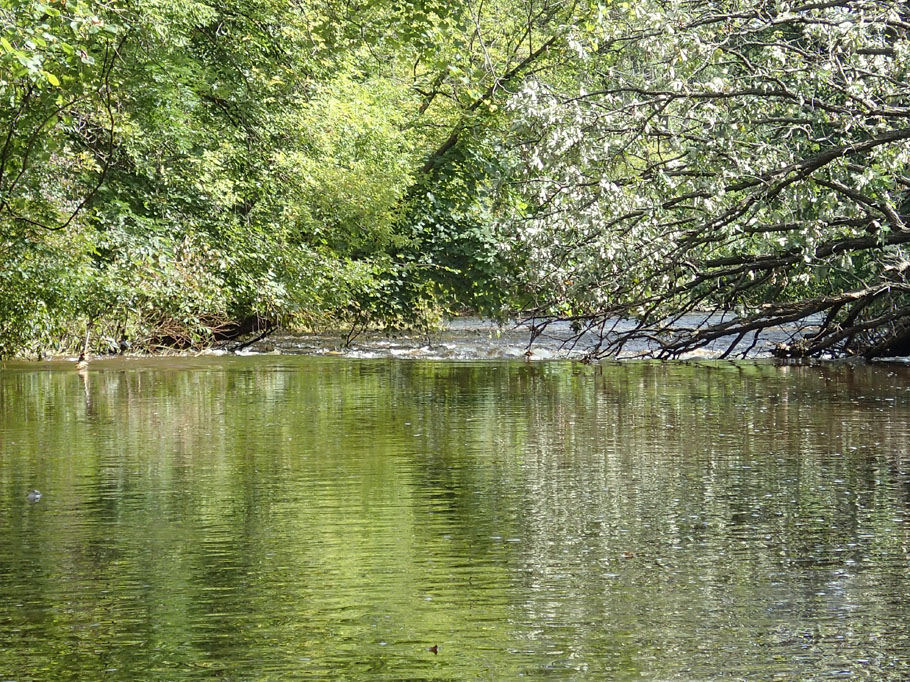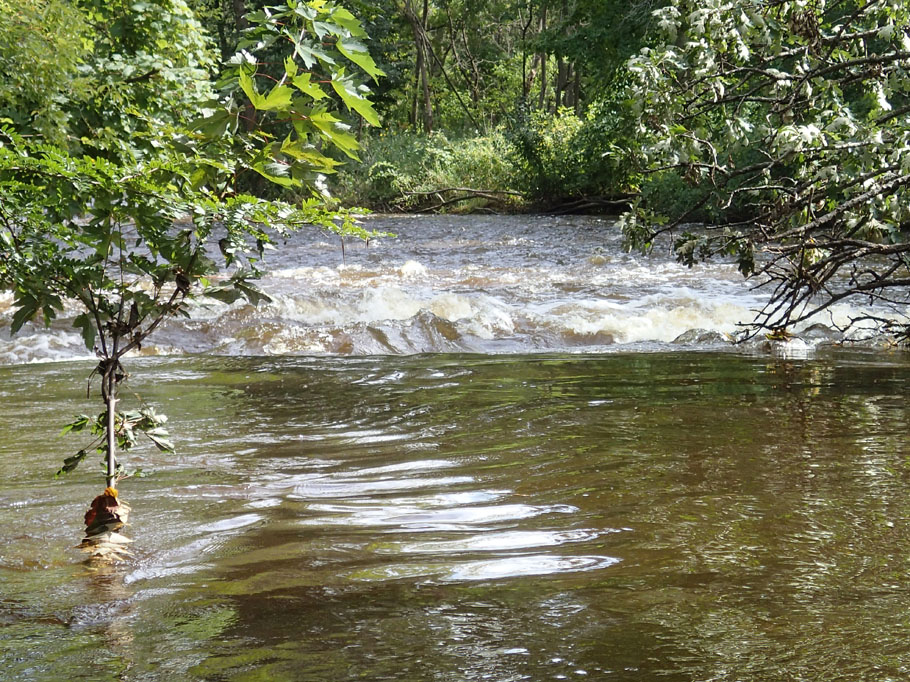 Riffles, still north of Burleigh.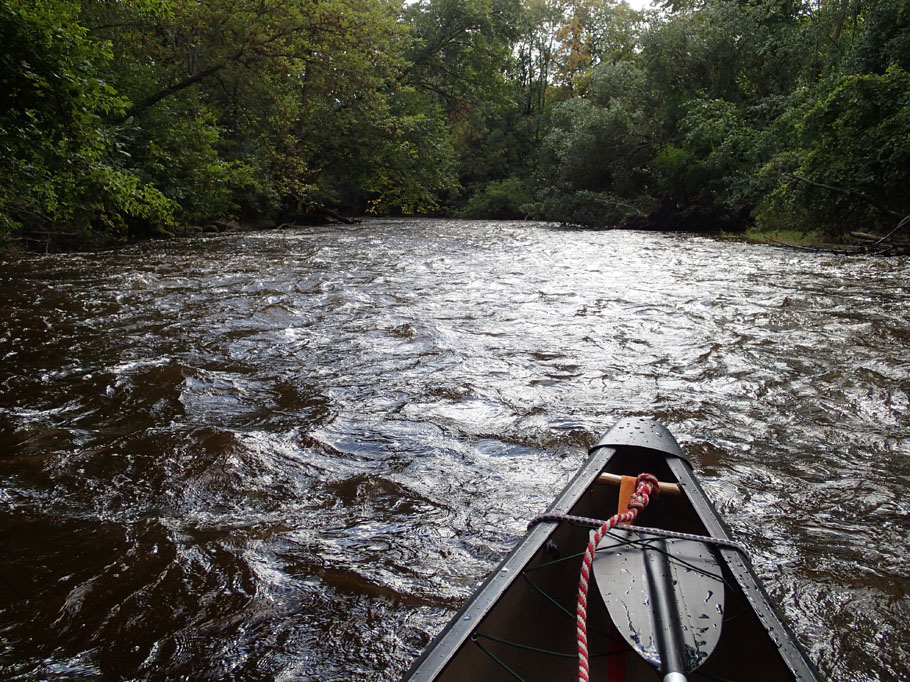 Approaching North Ave. I spotted this twisted ash tree. I imagine another tree took it down in the recent flood.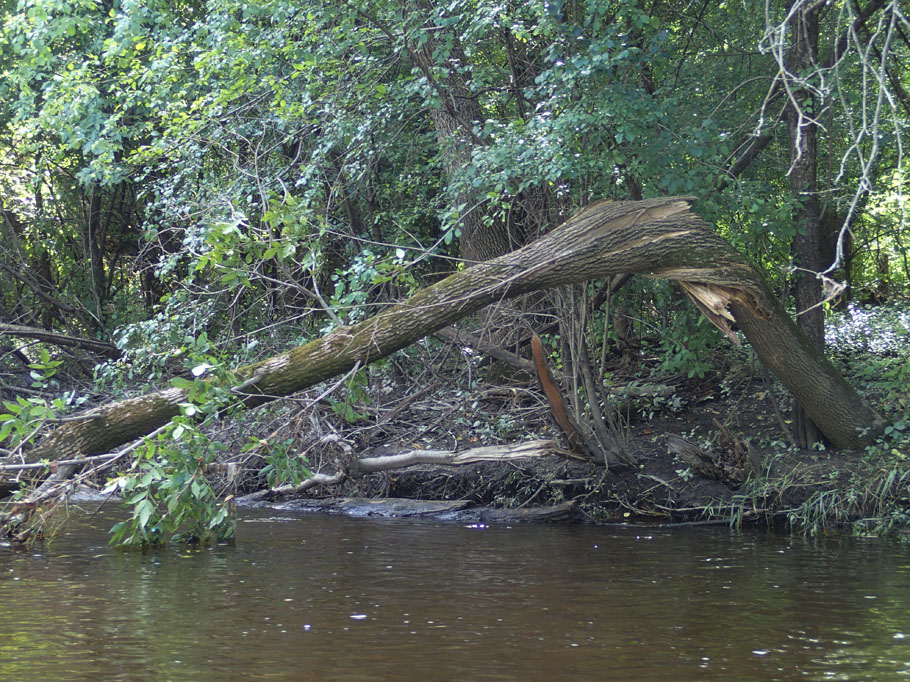 This little ledge was a nice break in the flatwater.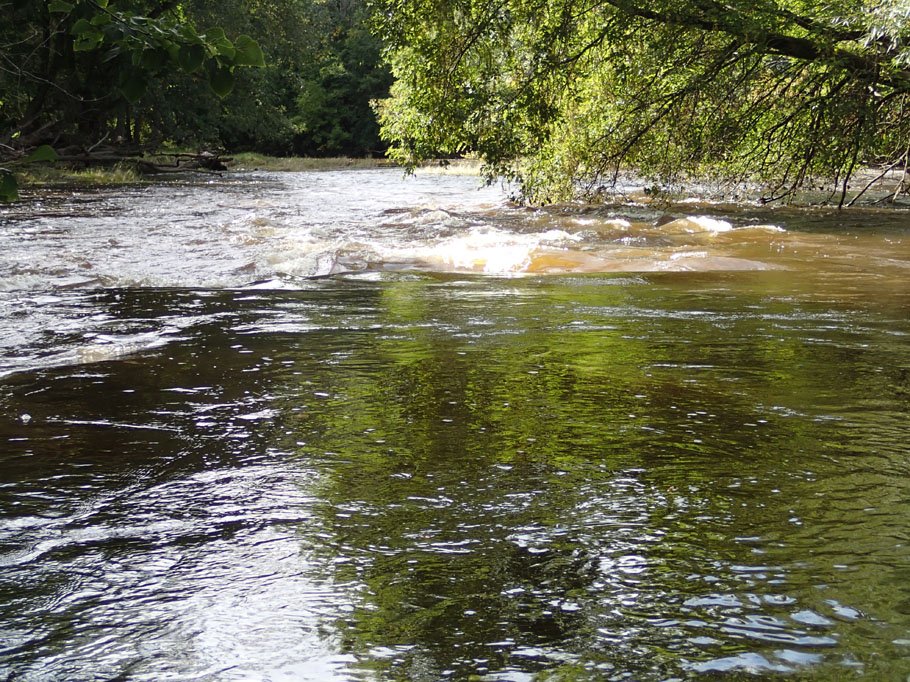 I saw quite a few logjams, but they didn't block the river.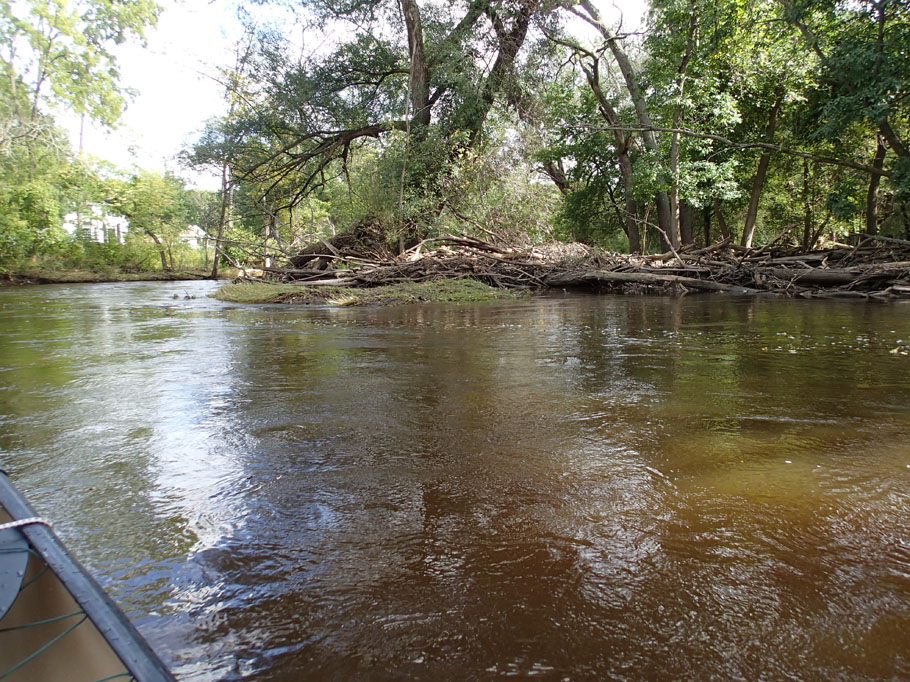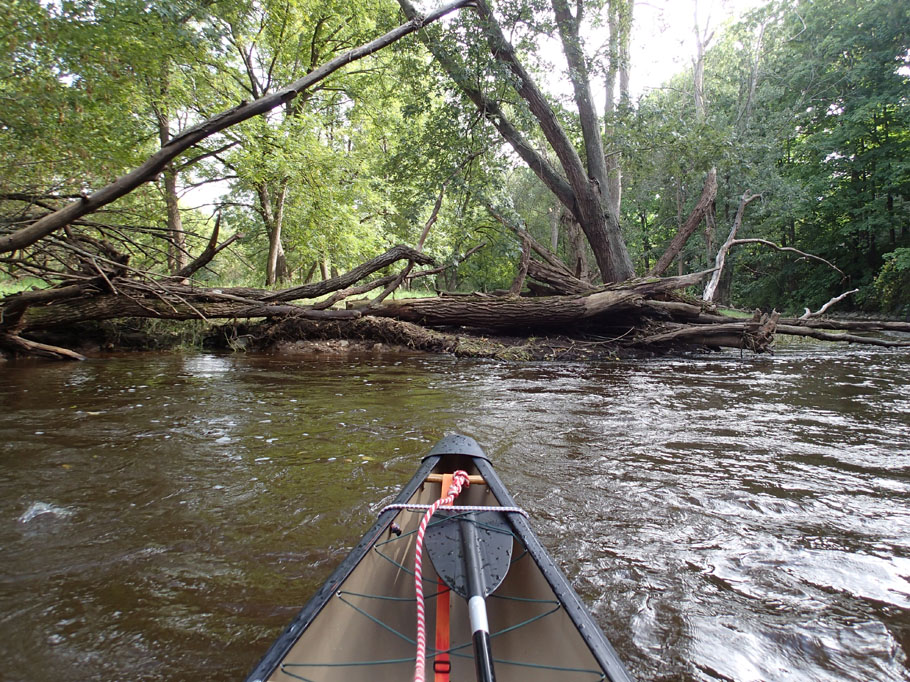 The North Ave. bridge is an interesting structure. In higher water it could be tricky getting through.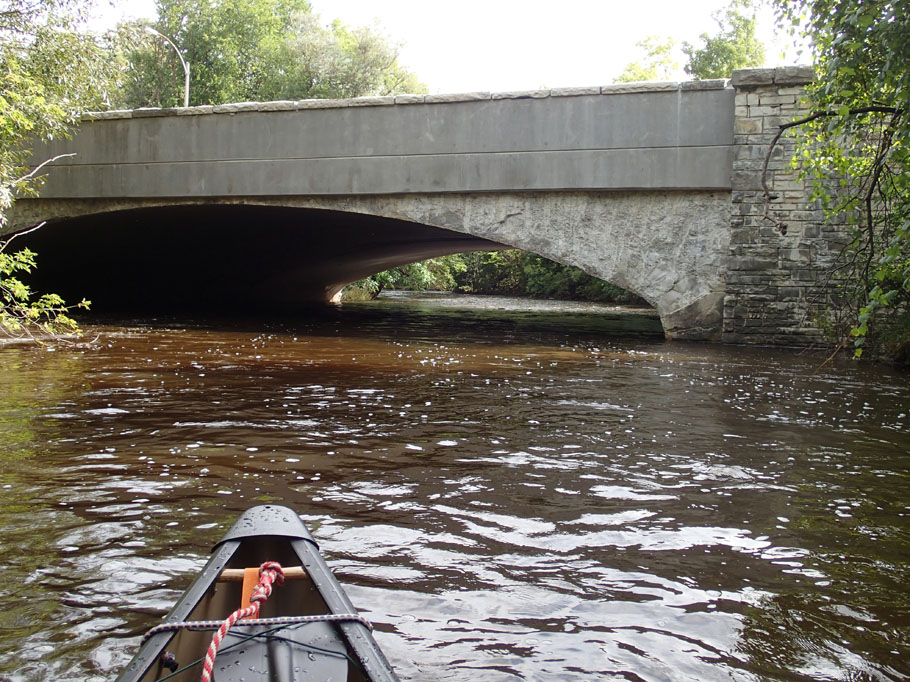 As I passed under the Hansen golf course bridge, a ball hit the water about 10 yards ahead.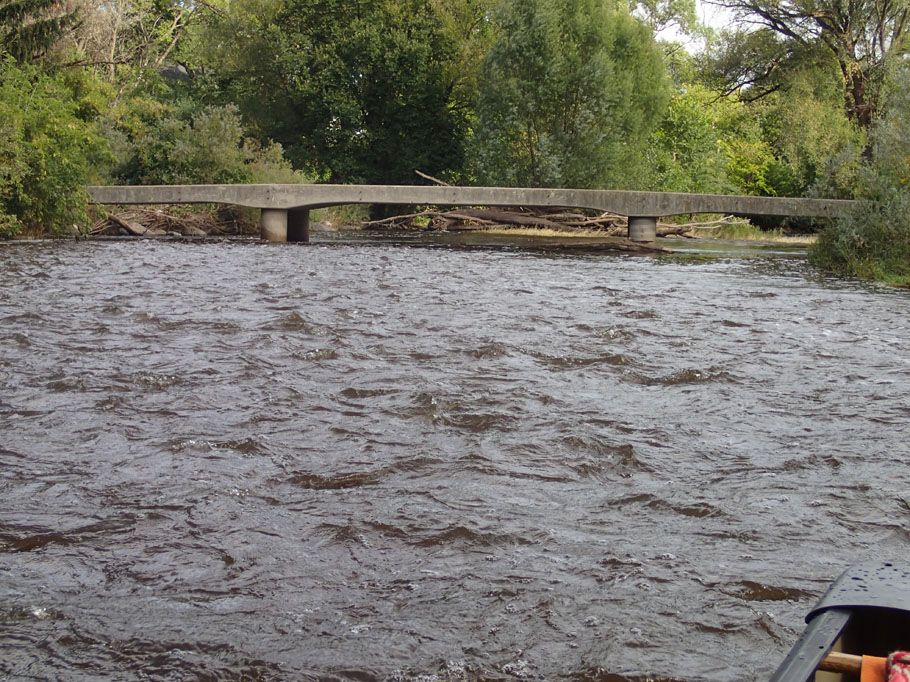 The Menomonee isn't particularly twisty, like the Mecan River or Badfish Creek (two of my favorites), but with a fast current and a lot of obstacles, I needed good maneuvering skills. I used to tell my canoeing students that the backferry is the most important item in the paddler's toolbox. (In that maneuver, the boat is paddled backwards and angled so the current moves it sideways. It works on the same principle that lifts your hand when you put it out the window of a moving car.) I employed that maneuver at least a dozen times, one of which was an S-turn immediately after the golf course bridge. An emergency backferry saved me from crashing into a rocky bank with a big snag in it; together, they could have damaged the boat and injured the paddler.. This screen grab from Google Earth shows how tight that turn is.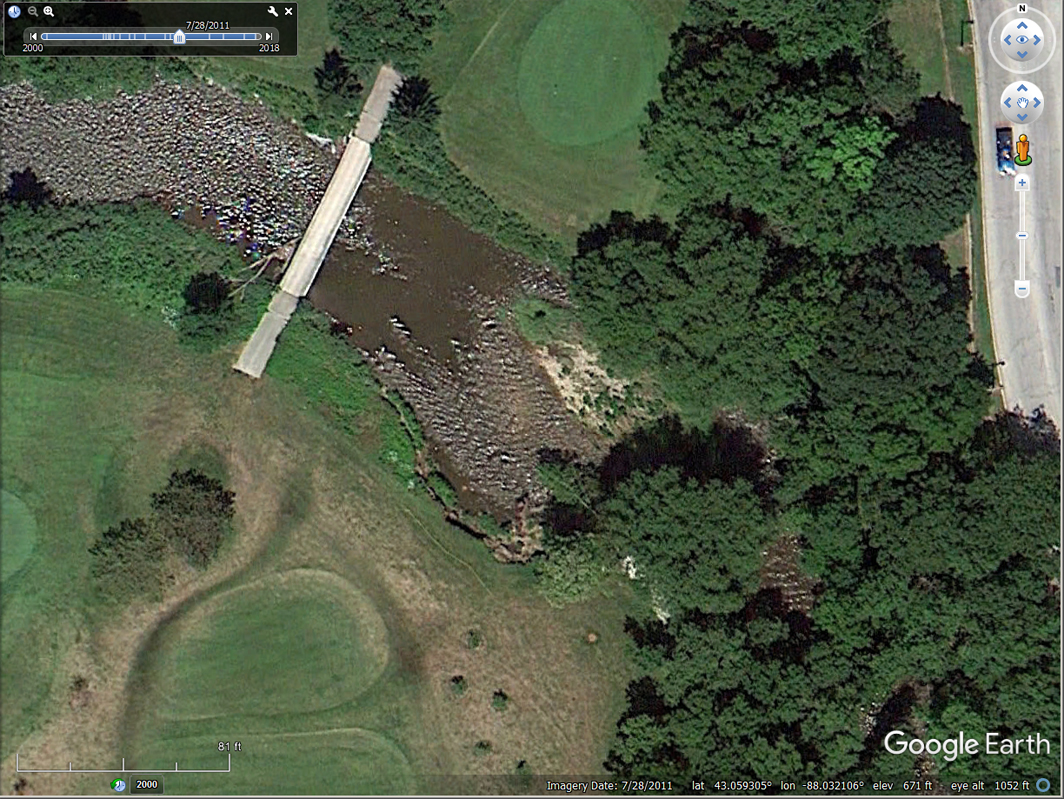 A little while later I came to Hart Park, which had a delightful series of little rapids.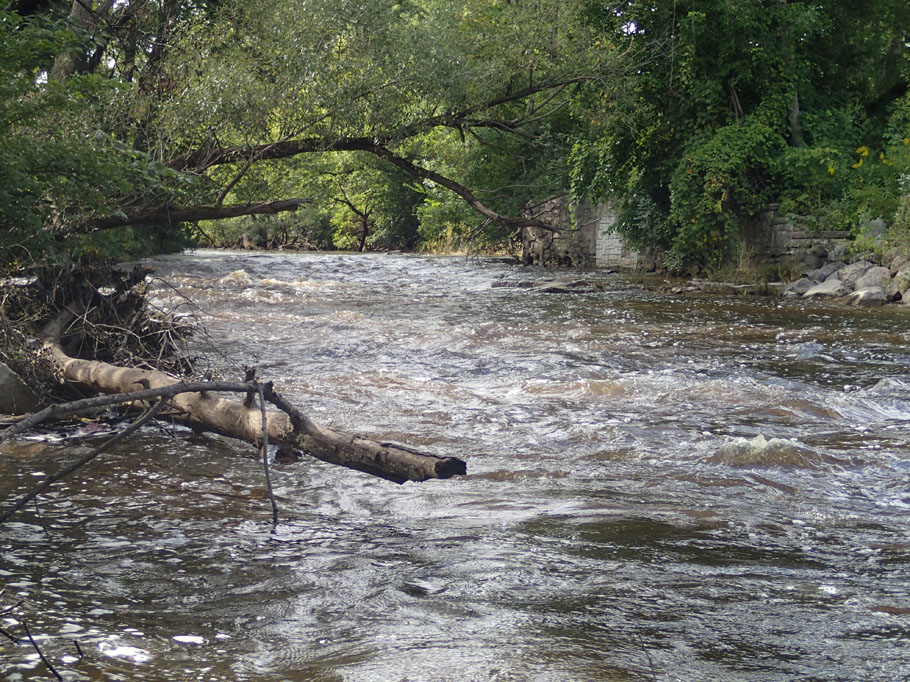 The park has a quaint and photogenic footbridge. It also has a beer garden. Drinking and boating of any kind don't mix, but it's a nice spot to socialize, get a bite to eat, and sometimes catch a trivia contest or live music. However, I don't know of a way to access it from the water.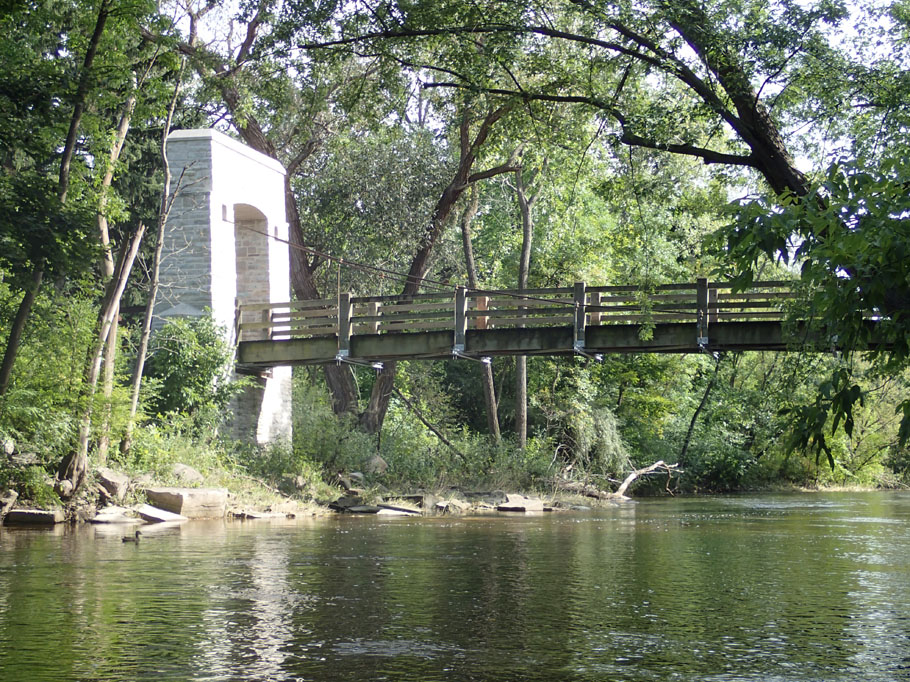 It was really fun to see from the water the outdoor restaurant seating area where I had dinner with a friend a few weeks earlier. On the right bank, on the upstream side of the bridge, there's a set of concrete stairs that lead up to street level. If you could tether your boat, it would make a nice stop in the trip.
This shows the right side of the logjam, looking back from downstream. It may seem plenty big for a canoe, but it was a real squeaker. Luckily there was a portage route on the other end.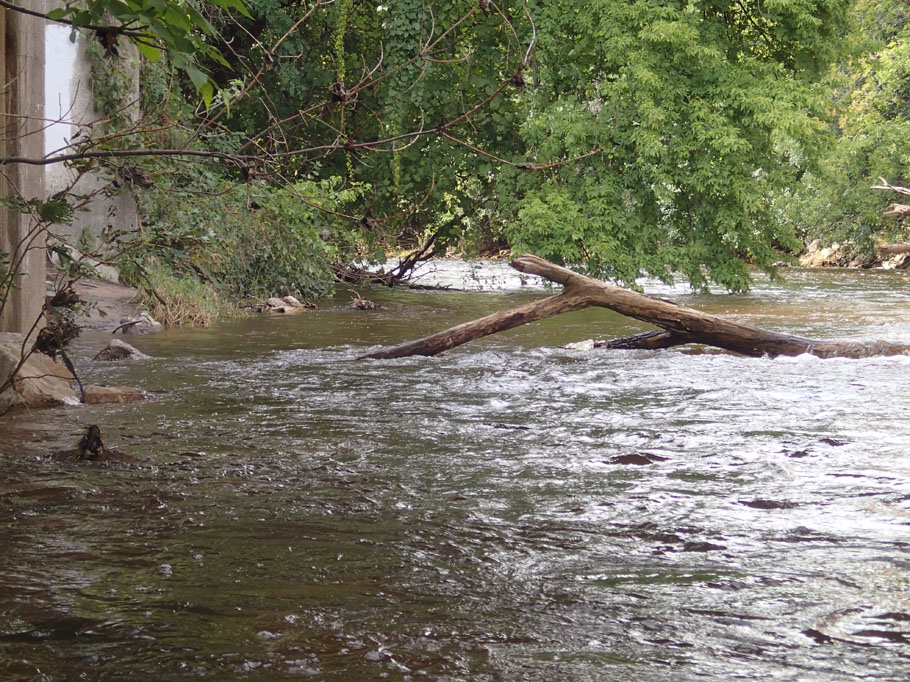 This is the bridge abutment where I was going to take out. Between the logjam and the rocky shelf it would have been tough ...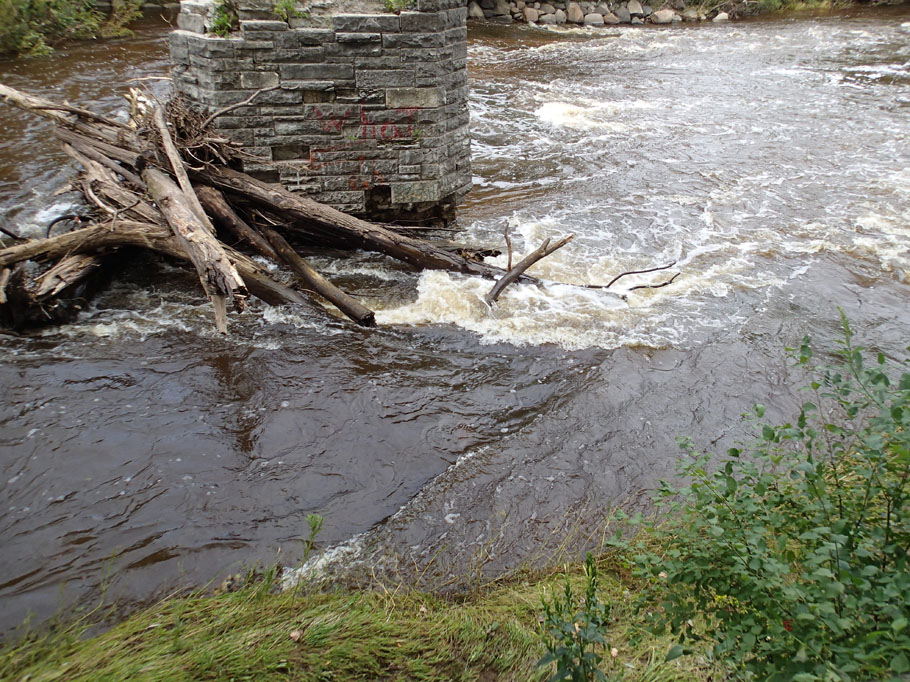 ... but this river-wide sweeper is the reason I took out upstream. The debris on the upstream side would prevent getting close enough to the log to get over it The portage route through the underbrush was probably feasible, but it looked pretty ugly.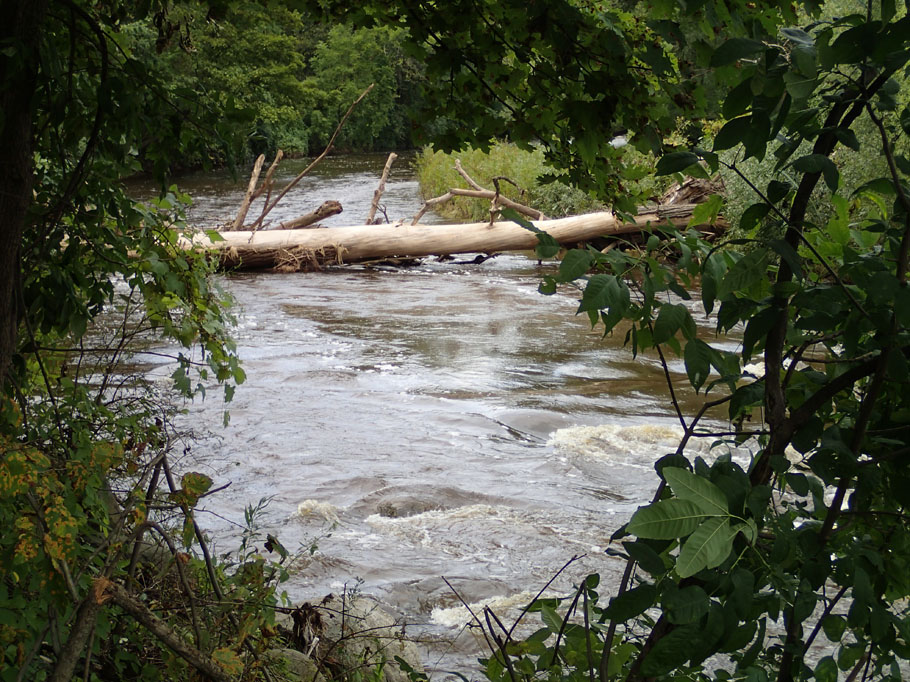 This shot, from where I took out, shows the other end of the sweeper/logjam. There was no getting around that thing.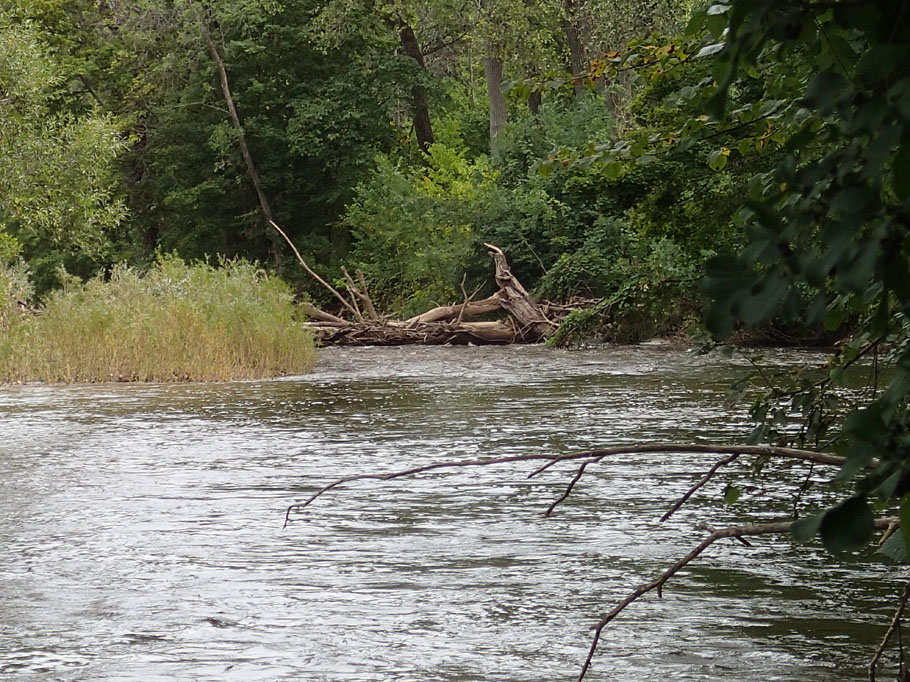 This view in Google Earth shows the extent of that obstacle and the bridge abutments.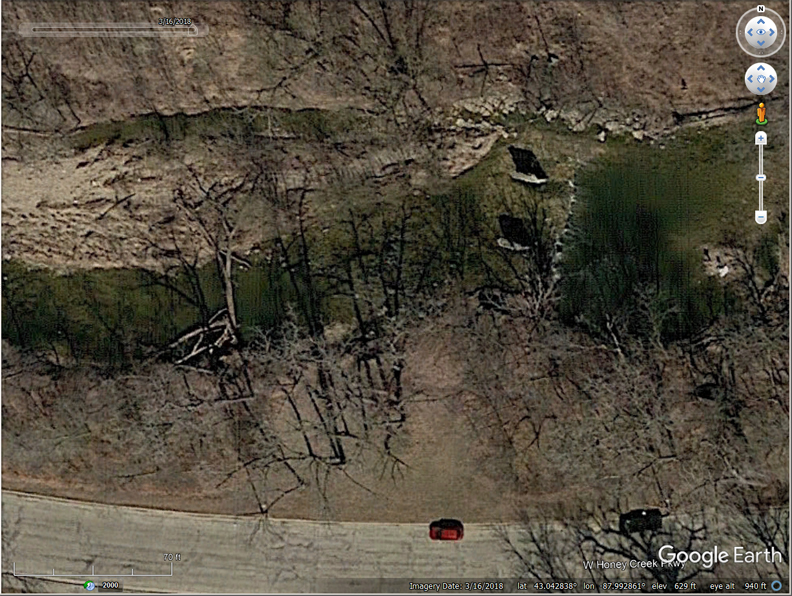 I wonder if canoes talk among themselves, or if the ones that didn't go out get jealous.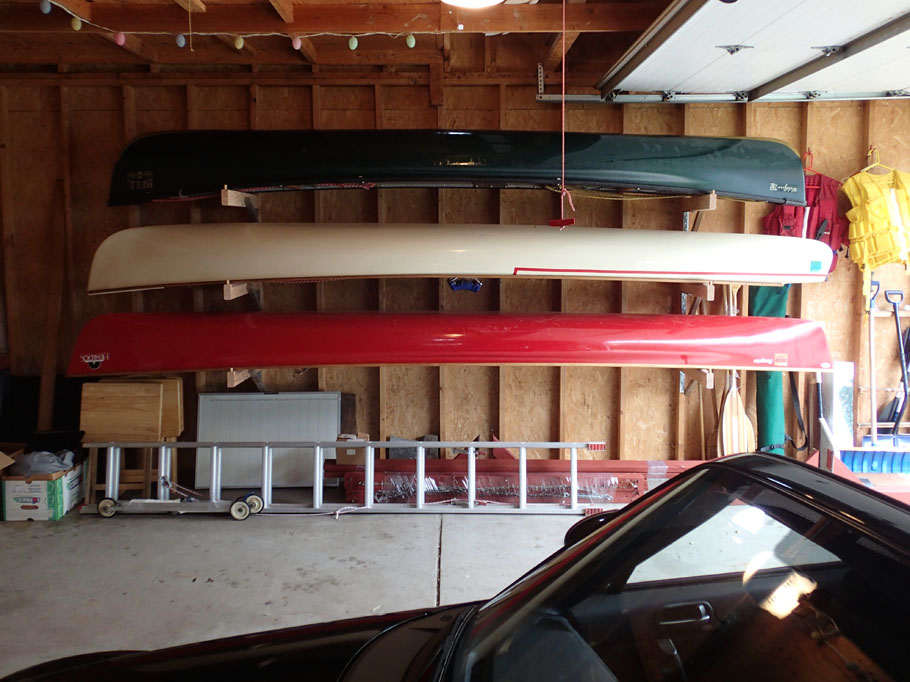 I hope to do this trip again ... and again ... and again ...