Flambeau River
June 2007
On June 23, 2007 some members of the Wisconsin Natural Resources Foundation took a trip down the Flambeau River. My friend Tom and I led the trip, as we had done twice before. The credit for these pictures belongs to two of the group members, Jonathan and Greg. Without them there would be no visual record - many thanks to them and to Tom for his expertise, patience and good humor.
The day before the trip we held a paddling workshop on Lake of the Pines using an obstacle course made of balloons tethered to bricks. Here Tom and I are watching the NRF folks building their skills.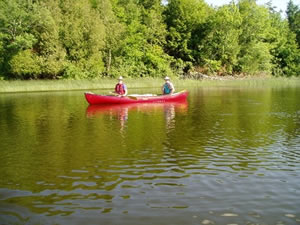 The North Fork of the Flambeau River at the Camp 41 landing: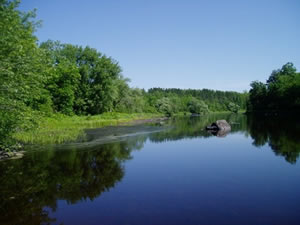 Terri and John's boat ready to launch:
A happy paddler: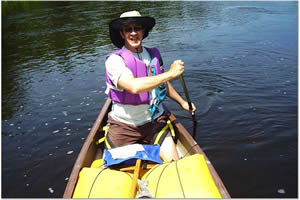 We came to Wannigan Rapids - the first of 14 rapids on this stretch of the river - shortly after the put-in.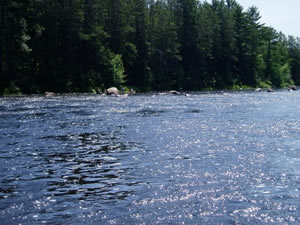 Terri and John, Dave and Tom, and someone from another group behind us.
This is a typical shot of one of the Flambeau's many quiet sections between rapids.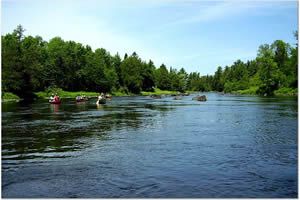 Cedar Rapids is a complex drop that requires great care. Greg wanted to get one last picture for posterity, just in case ....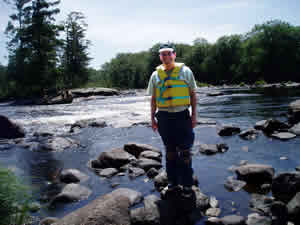 The calm before the storm. The boats are beached on river-left while we scout Beaver Dam Rapids.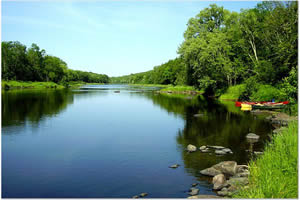 The famous Beaver Dam Rapids - a turbulent river-wide ledge that drops 4 feet in high water. It must be run carefully to avoid capsizing.
Tom, surveying the biggest drop on the river, thankful that with today's low water the drop is only 3 feet.
"I sure hope they were paying attention when we talked about keeping the open side up!"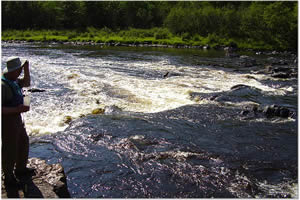 Jon and Paul provided a good example for the rest of the group to follow.
Jon took some great pictures from this position.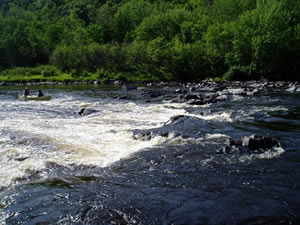 Good setup ...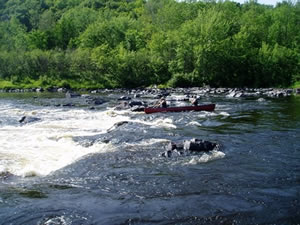 ... and a perfect line through.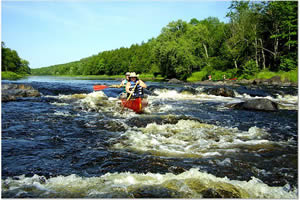 Another good setup ...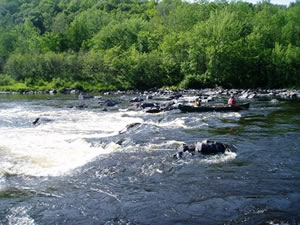 ... and another perfect line.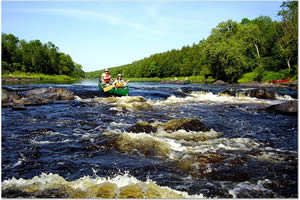 Taking their time, checking to make sure they're going where they decided when they were scouting from land.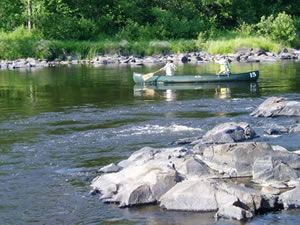 They hit the chute perfectly ... or so it looked from shore.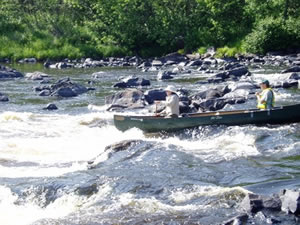 They managed to miss that big rock, but it looked close.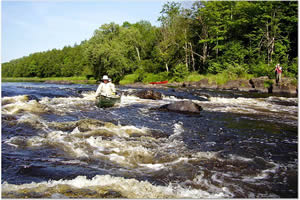 I'm about to lean waaaay over and pull the boat into the eddy (the calmer water below the rock next to the boat). The water was low but a little bit of play made this rapids more interesting.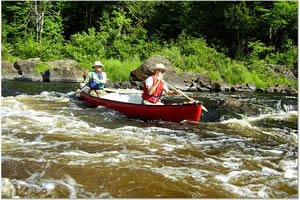 Here's Paul again, waiting for help to haul his boat up the path to the car. Everyone was tired at the end of the trip, but we were happy to help each other with gear and logistics.