Bois Brule River
June 14-20, 2009
Sunday, June 14
Travel day; 340 miles in 5-1/2 hours from Oregon, Wis. to Brule, Wis.
Camped at Brule River State Forest in the Copper Range campground.
A young couple - Chad and Becca - from Duluth were camped across the road. At about 8:30 Chad came over to tell me about a big black object about two feet high that was moving around in the open woods behind their campsite. I grabbed the camera and we went crashing through the underbrush in the gathering dusk scouting for bear sign, but all we found were deer, raccoon and coyote tracks.
Monday, June 15
I took my Bell Wildfire (Royalex version now called the Yellowstone Solo). Knowing there are some significant rapids on the Brule I installed the flotation bags and contoured knee pads. I left the thigh straps at home and didn't need them, but it was a good thing the float bags were in because they saved me from swamping in the May Ledges.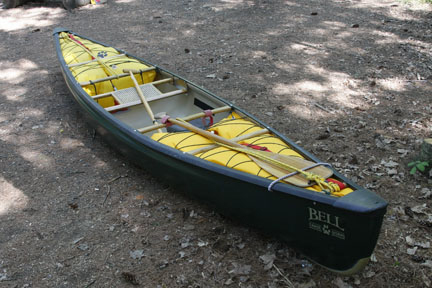 The day was mostly sunny, in the mid-70s, with a light wind. As usual, I spotted the car at the take-out and rode my bike back to the put-in. Also as usual, I avoided the state highway in favor of less-traveled roads. The 3.25-mile route began at the Highway 2 landing, followed Lyons Rd. onto Highway 2, turned right on Ranger Rd., left on Hatchery Rd., right on Congdon Rd., right on County B and finally left at the Winneboujou landing. (I've described the route in detail because some of the road names do not agree with most of the maps I've seen of the area.)
The river was running low (134 cfs at 1.44 feet) but this being my first time there I didn't notice. There was plenty of water and it flowed clear and brisk over sandy bottoms, interrupted frequently by Class I rapids, with one Class II toward the end of the trip.
There are rules about containers and watercraft on the Bois Brule that keep it clean ...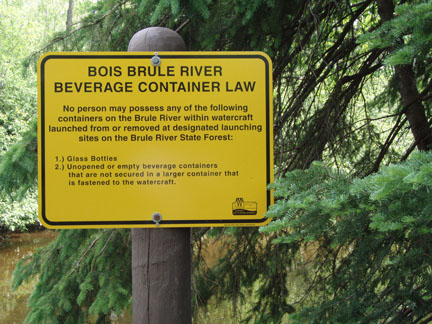 ... and promote paddlers' safety.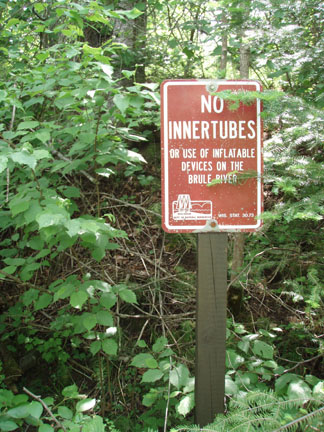 I put in at the Winneboujou landing, typical of the Brule's many well-designed and -maintained access points.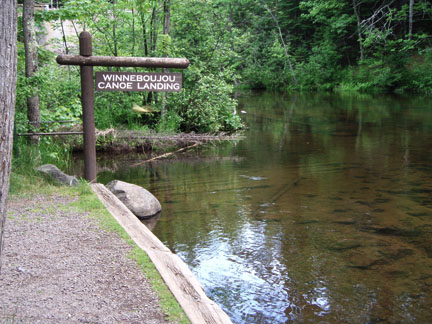 Here's a typical pool with some riffles:
I came across quite a few barking ducks, otherwise known as common mergansers. Some of them had quite large families, more than 20 chicks. They would swim slowly away and then the water would explode with dozens of little feet and wings running and flapping frantically across the river.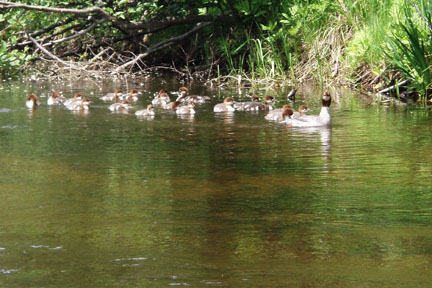 Little Joe Rapids is the only Class II on this stretch of the river – short but fun. From the river-right eddy ...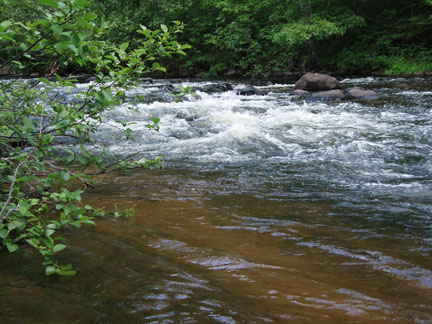 ... and from downstream: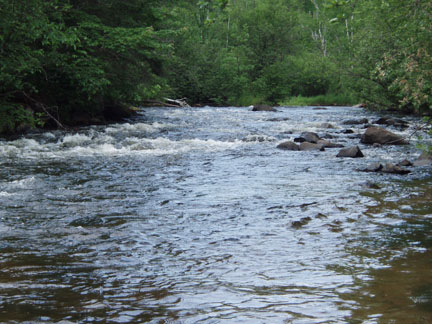 Shortly after Little Joe the Bois Brule campground landing appears on the right. Another very nice access.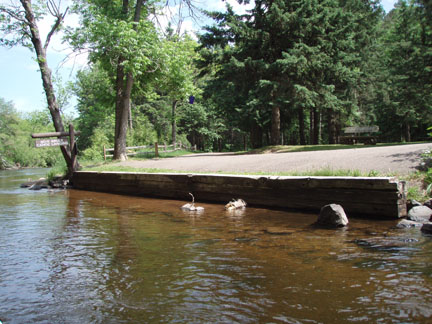 I took out at the Highway 2 landing.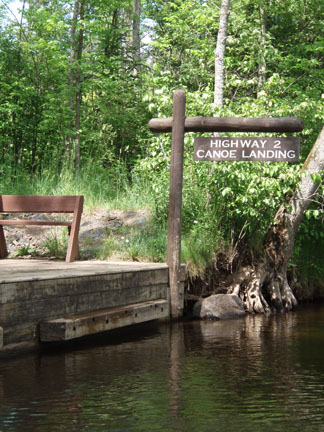 Mike Svob's book "Paddling Northern Wisconsin" indicates this trip is 3-1/2 miles long, but my GPS showed I covered 4.4 miles in 1:40 including 10 minutes of stopped time.
Tuesday, June 16
I went to Amnicon Falls State Park and took some pictures of the waterfalls. When I got back I met a couple who had just moved into a nearby campsite. Not only did I discover that they live a few miles from me in Belleville, but I've known the wife for years through a professional network. That's the third time I've met someone I already knew out in the boonies. I wonder who I'll meet up with next.
Thimbleberry, which produces an edible raspberry-type fruit the size of a - you guessed it - thimble, grows thick throughout the campground. It's too early for fruiting but I got a picture anyway just so I don't forget what it looks like. The leaves are about 6-8 inches across.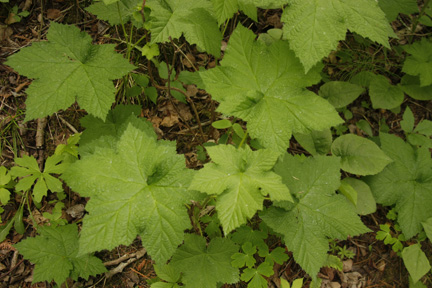 You can learn more about this interesting plant at Wikipedia.
I also discovered a large serviceberry bush at the entrance to the campground, but the berries were about a week away from ripening, so there was no fresh fruit with breakfast.
Wednesday, June 17
Today I paddled the Bois Brule from the Copper Range campground to Highway 13. (Note that the Copper Range landing is available only to people who camp there.)
It was another beautiful day, mostly sunny and in the mid-70s with a light wind. The 6.1-mile bike shuttle followed Highway 13, County H, and the road leading to the park. This is the first time I've ever been able to park my bike at my campsite before putting in.
Are these landings deluxe or what?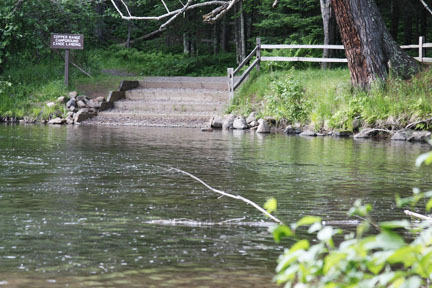 This section is very different from upstream. The first 2-1/2 miles are a mix of flatwater, riffles and easy Class I rapids. Then comes the first Class II, Lenroot Ledges. This is a fairly straightforward series of drops, with easily spotted chutes and a pool after each of them. Here's the first drop, first from upstream …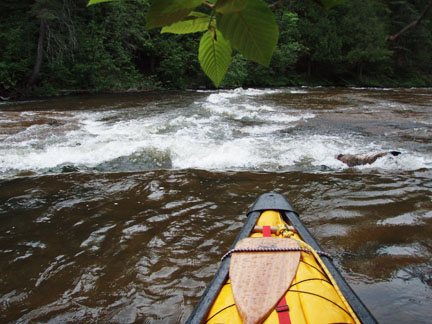 … and then from downstream:
And here's a shot of the last section, looking upstream, taken when I scouted it from the fishermen's parking area on the left side of the river (not the right side as shown on some maps).
County FF crosses the river shortly after Lenroot, and soon after the bridge the May Ledges begin. This rapids is rated Class II+ and it requires above average river-reading and maneuvering skills. There is a trail along the bank leading from the Koski Rd. fishermen's parking area on river-right (the maps are correct on this point), and all paddlers are strongly advised to scout the entire rapid.
The first drop is like Lenroot, having a fairly obvious chute in the middle followed by a flatwater pool. First, the entire structure, shot from the bank while scouting …

… and then a view from the eddy on river-right: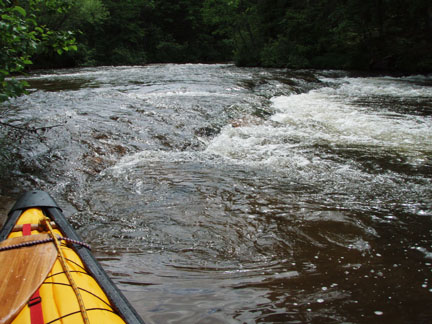 Now the fun begins. The rest of the May Ledges is a series of four drops followed by a logjam and a rock garden. In low water the drops have to be taken on the far left side in order to avoid some shallow pour-overs that will most likely cause a capsize. (On this particular afternoon, one member of a relatively experienced tandem team received some nasty abrasions after their boat caught on a ledge, spun sideways, and dumped.) The route must be planned carefully because, even though it isn't very long, once you start you're committed to the whole thing. If you get misaligned it's possible to back-ferry, but you have to be quick because the current is fairly fast and the ledges come in quick succession. I look forward to finding out what this section is like in higher water. An outfitter told me about 6-foot-high standing waves during spring runoff.
This picture looks upstream, showing the four drops and the path I took through them.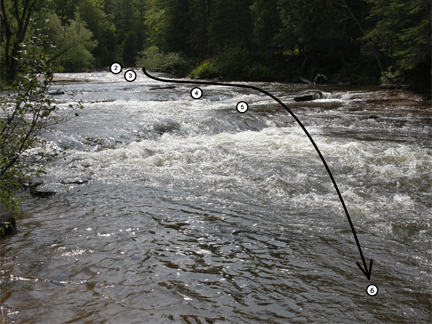 Feature #1 is not on this picture; it's the first drop, shown above.
Feature #2 is hidden behind the trees. It's a broken ledge with a small logjam on river-right and a small opening on the left.
Feature #3 is a fairly wide slope that might be possible to eddy out from, provided your boat has brakes.
Feature #4 is a broken, ragged ledge with a smooth tongue just to the right of the downed birch tree on the left bank. There is a nice eddy at that point but the tree obstructs it.
Feature #5 is about a two-foot drop with an opening on the left.
Feature #6 is the logjam shown in the next picture, looking downstream.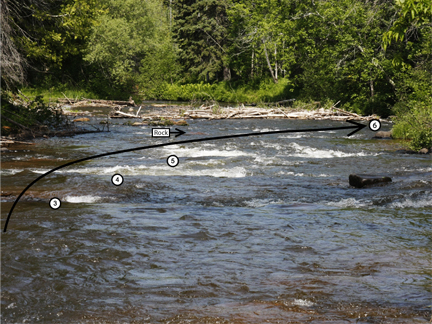 We see the tail end of feature #3 leading into the #4 and #5 drops.
To the left of the logjam is a very shallow rapid with many small rocks, too shallow to float through. The rock indicated above must be passed to the right in order to reach the end of the logjam without crashing into it.
Feature #6 is a narrow space at the right side of the logjam as shown next.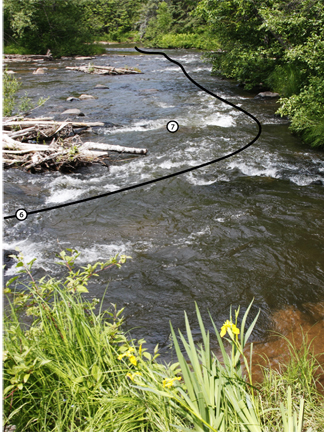 Feature #6 is a narrow space between the logjam and a few rocks.
Feature #7 is a small ledge that must be passed to the right. The space between the ledge and the riverbank is only about five or six feet wide and requires a well-timed turn. Fortunately, the terrain has flattened out enough that much of the boat speed can be scrubbed off by this point, enabling a relatively slow and controlled turn.
A small rock garden follows before turning left into a small pool.
From this point to the Highway 13 takeout - about 4-1/2 miles - the river is mostly riffles and Class I rapids.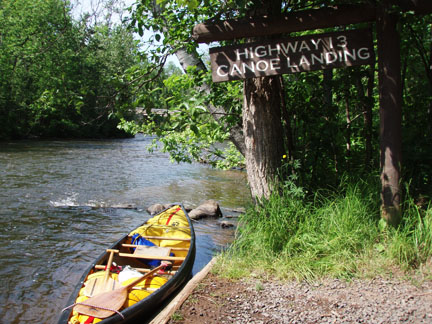 Mike Svob's book "Paddling Northern Wisconsin" indicates this trip is 8-1/2 miles long, but my GPS showed I covered 10.1 miles in 3:25 including 35 minutes of stopped time.
Thursday, June 18
This was a much-needed rest day. My separated right shoulder was handling the work well enough, but my probably-arthritic left shoulder was complaining. The downtime was much appreciated and allowed me to visit a bit with some of the resident wildlife.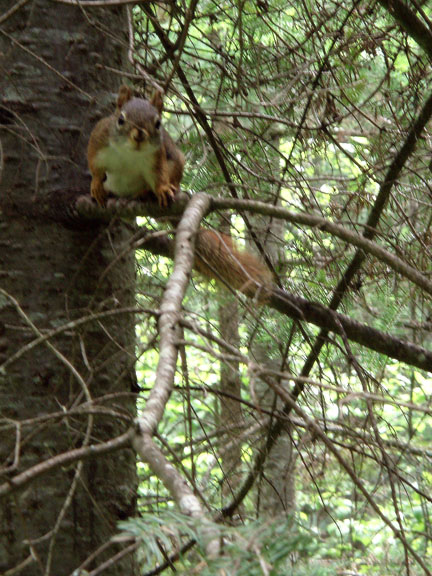 After dinner I spent a couple of hours chewing the fat with my neighbors from Belleville. As we chatted over their campfire we watched a deer slowly move through the campground. Maybe the wildlife feel safer when there are no RVs around (there are no electric sites at this campground).
Despite steady warnings of rain all week on the weather radio, this night was the only time any significant rain fell, with a thunderstorm that lasted just a few hours. The next two days I checked the river level and didn't notice a change; the ground must be very dry.
Friday, June 19
I drove down to the Eau Claire River, one of three in Wisconsin. This one runs west about 13 miles from Lower Eau Claire Lake to the town of Gordon, emptying into the St. Croix River. I paddled this delightful little stream with a friend in 1991 and relished the opportunity to return.
Today I scouted the various bridge crossings to find a couple of reasonably-spaced landings. When I was at last ready to do the bike shuttle, I realized I had forgotten my saw back at the campground 25 miles away. It occurred to me that this river probably gets very little traffic and no doubt has a number of strainers that would require some difficult portages. I was tempted to just go for it, but after reminding myself that I simply was not properly equipped I took a couple of pictures for future reference and headed back to camp.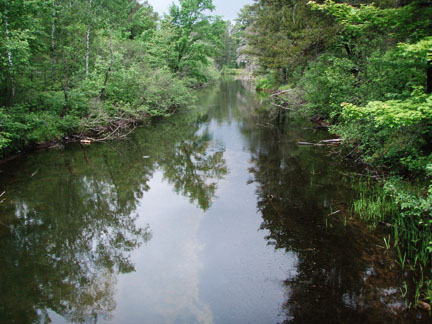 Since it was sunny and slightly breezy, I decided to repeat Monday's trip on the Bois Brule. Although it was just about a carbon-copy day, I was not disappointed. It was even better, since I left the camera and GPS behind and focused on simply being aware of my surroundings.
When I got back to my campsite I had a most unusual and welcome visitor, so obviously unconcerned that I was able to get the camera out of the car and squeeze off a few shots. I can't help but wonder if it was the same one we saw the night before.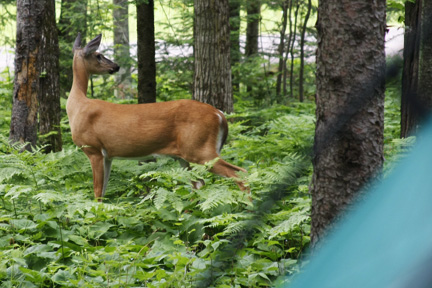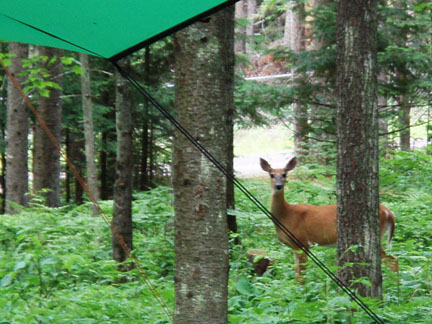 Saturday, June 20
My body traveled home but my mind remained on this delightful river, light as a dandelion seed.