Outside Canoe Awning and Fence
I have three canoes that live outside. They are (left to right in the first picture below) a Dagger Legend 16, a Bell Wildfire, and a Wenonah Prism. All the others have wood trim and are stored in the garage.
Each of the outside boats is covered by an awning as described below. Please let me know if you have any questions, comments or suggestions about this setup, how it was built, or how it could be improved.
This picture was taken in late morning in about mid-summer. By noon the Legend gets a little sun on its exposed bilge. Otherwise all three boats are in full shade all the time.
This picture shows the top lacing; the bottom lacing is similar.
The boats are on "T"-shaped supports made of 2x4s. Each horizontal is bolted to a 4x4 fence post and each vertical rests on a brick.
The low fence comprises six sections, mounted on 2x2 posts that fit nicely into 2" diameter PVC pipes set into the ground. The sections are easily removed to gain access to the boats. (The fence would be unnecessary if the dogs didn't have a taste for thwarts or seat webbing!)
The boats cover up three septic field vents, apparently without being affected by the small amounts of methane they give off. If you have reason to believe methane could damage Royalex or kevlar, please let me know.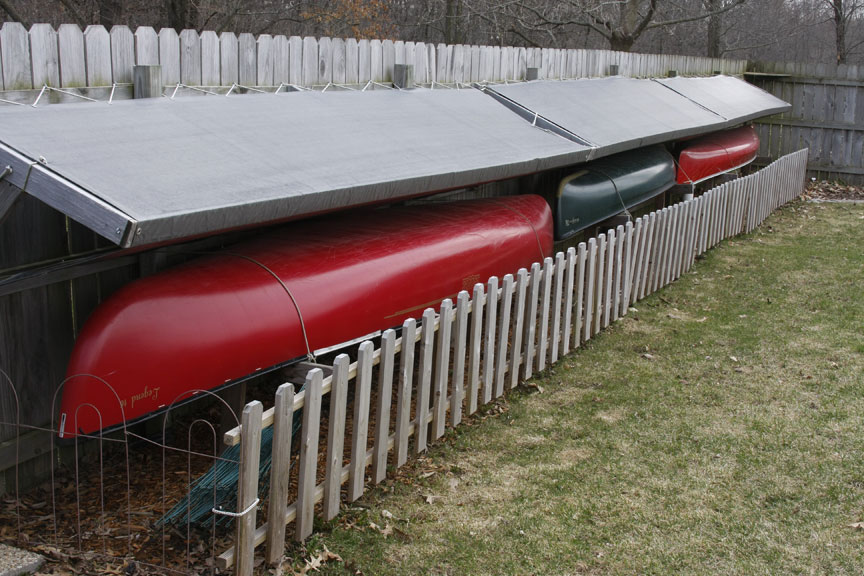 This picture shows how the awning supports (I call them trusses) are made.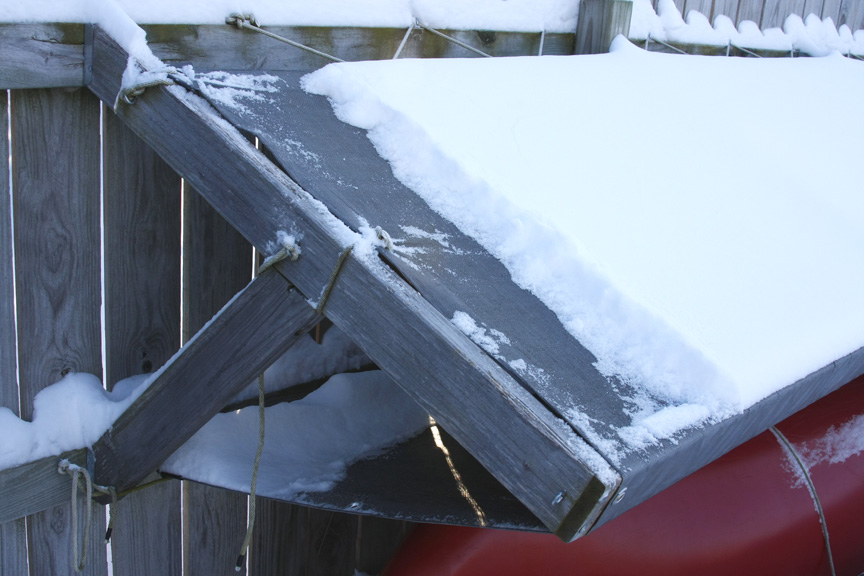 Each of the outside canoes is covered by an "awning" supported by three 2x4 trusses (one at each end and in the middle) attached to the top and middle fence stringers with brackets from the hardware store.
A 16-foot long 1x4 board is attached to the outer ends of the trusses. This board stabilizes the trusses and provides a point for the 6x16-foot tarp to wrap around.
Two 1x4's span the space between the top fence stringer and the long 1x4. These short boards are set between the trusses and are set into the long board to make a smooth surface.
Screw eyes are placed about a foot apart along both stringers and the tarp is laced to them using 1/4" braided nylon line (braided to minimize stretch and nylon to resist weathering).
The tarp is folded back at a downward angle to permit water runoff.
If I did this again I would make the trusses longer. They extend three feet from the fence and do not provide quite as much coverage as I'd like.
Thankfully the awnings are on the north side of the fence with a few trees for added shade.
This picture shows the underside of the awning.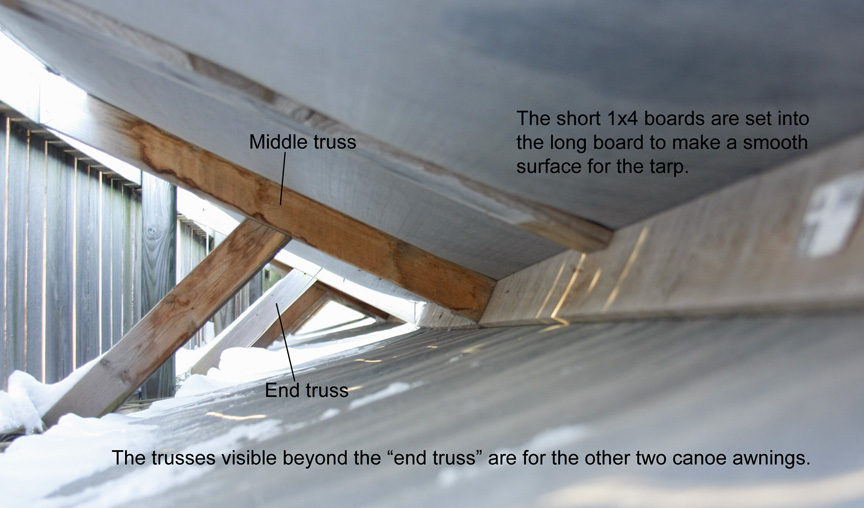 Finally, here's what the arrangement looks like this winter (January 2009):