Canoe Trips
Boundary Waters:
Boats & Gear
Boundary Waters Gear List
Wenonah Prism (sold)
-cane seat installation
-thwart replacement
Wolf and Peshtigo Rivers
May 14-17, 2006
Four of us headed "up north" for a bit of whitewater paddling - my friends Tom and Gary, Tom's son Dave, and I. We explored parts of the Peshtigo and Wolf Rivers; fortunately I have a couple of pictures to show for it, thanks to Dave.
My canoeing log for this trip shows the following entries:
5-14-06
Wolf R
Hollister to Irrigation Hole
6.5 mi., 2:15 + 0:30 stop
All four of us paddled today. Great flow (770 cfs, 8.66 ft). Not too technical but fast and a bit pushy. No capsizes, lots of eddying to check routes. Legend and Wildfire outfitting (thigh straps, flotation, knee pads) worked well. Camped at Boulder Lake, site 26. Gary loved the Wildfire.
5-16-06
Peshtigo R
CCC bridge to Burnt Bridge Rd., 9 mi., 3:25 + 0:35 stop at halfway point bridge.
Gary left so Tom, Dave and I paddled today. High water - about 1,060 cfs, 5.6 ft (bank full is 5.0 ft). Somewhat technical and fast; strong currents, big waves, some pushiness and lots of downed trees made it a Class III river. Lots of fun, no mishaps.
5-17-06
Wolf R

Irrigation Hole to Langlade
2.7 mi., 0:40 (nonstop)
Dave left so just Tom and I paddled. Same flow as 5/14 but a tamer ride - fast in spots but not too technical, though it must have been challenging because we hit a rock in a calm stretch due to bow paddler (i.e., my) error.
Gary paddled my Royalex Wildfire (with 2" longer thwarts for added stability) on the Wolf. He was delighted with its stability, considering the very cold water. He wasn't really as scared as he looks here.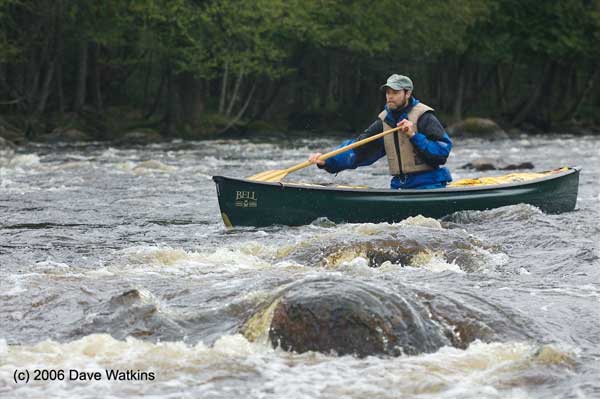 Tom (in the bow) and I had just come through a tricky Class II rapid on the Peshtigo. The Dagger Legend 16 was the perfect boat - stable, dry and responsive. Tom's son Dave took this picture while sitting in an eddy in Tom's Mad River OutrageX.