Mad River Independence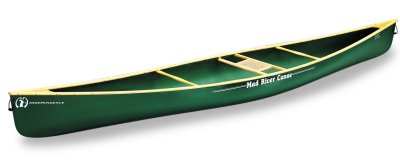 The Mad River Independence is the solo version of the famous Malecite, built for paddlers 150 lbs. and over. Mad River Canoe's spec sheet indicates a 6" freeboard load of 700 lbs, but it would be foolish to load it up that much. Here are the rest of the specs:
Length: 15'8"
Gunwale width: 28.5"
4" waterline width: 29"
Bow height: 19"
Center height: 11.75"
Stern height: 17"
Hull configuration: Symmetrical, shallow-V, moderate rocker (2.5" each end)
Material: Fiberglass
Weight: 44 lbs.
This is what Mad River says about the Indy: "The V-shaped hull gives the Independence extraordinary secondary stability, thoroughly predictable even when leaned all the way to the rail. Sleek entry and exit lines and flare increase seaworthiness. A hint of tumblehome near the center makes for easy paddling." After paddling this boat for four years I would say every word of that description is true.
I test paddled several boats before buying my first canoe in 2000. The finalists were a Wenonah SoloPlus, a Mad River Guide (now the Freedom Solo), and a Mad River Independence. I liked the Indy but felt I didn't have the skill to paddle it well. I got the SoloPlus but I always regretted not buying the Indy. In 2009 an Indy came up for sale and I jumped at the opportunity. The woodwork needed refinishing but otherwise the boat was in good shape, the only damage being the usual surface scratches. I'm selling it because I've bought two other boats that are a little better suited to my use: a Blackhawk Ariel for rivers, and a Hemlock Peregrine for tripping. Otherwise there's no way I'd let it go.
I've used the Independence on rivers and on Boundary Waters trips and found it to be stable, seaworthy, predictable, and somewhat challenging. Having about 2.5" of rocker in both ends it's highly maneuverable, which means the paddler needs a set of solid control strokes. Like other boats of its type it handles better when it's leaned 10-20 degrees to the side, and that's true with or without a load. Its rocker makes it quite responsive, but being relatively long for a solo boat it doesn't respond as quickly to inputs as, for example, the Bell Wildfire, a freestyle boat that is 20" shorter with the same amount of rocker. I would sum up the Indy's handling characteristics this way: She's a joy to dance with if you know the steps.
On rivers, it's important to anticipate how the Indy will respond to both paddle inputs and changes in current. Failure to do so can result in it doing the solo canoe's (in)famous spontaneous spiraling turn. This is in the nature of rockered boats and is easy to prevent, and if you don't know how, the Indy will teach you. That is to say, if you've paddled solo but are unsure of yourself in this boat, your perseverance will pay off in improved skills. I wish I'd known this back in 2000. That SoloPlus would have stayed on the rack.
On open water, it's a dream to paddle. Just lean it to the side, settle one knee or foot in the bilge, and enjoy its smooth, easy tracking. The only downside is wind. It's fine in lighter breezes up to 10-12 mph. At about 15 mph, when whitecaps start to form, it starts getting a little hard to handle. This is easily remedied by using a double-bladed paddle or by lashing two paddles together. I'm glad to say I haven't had to do that more than a few times. If your load permits, it's possible to get one end deep enough to make it handle fairly well. That worked for me in a tailwind of about 12-15 mph, as you can see below.
Following is a brief photo gallery, starting when I brought it home.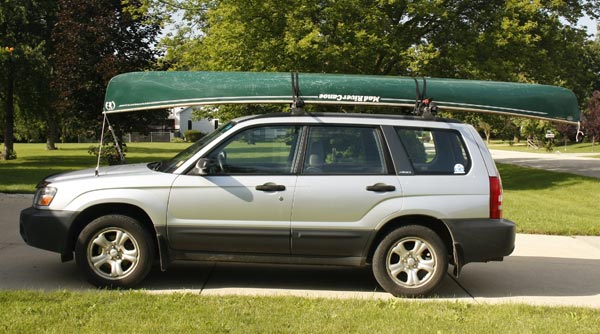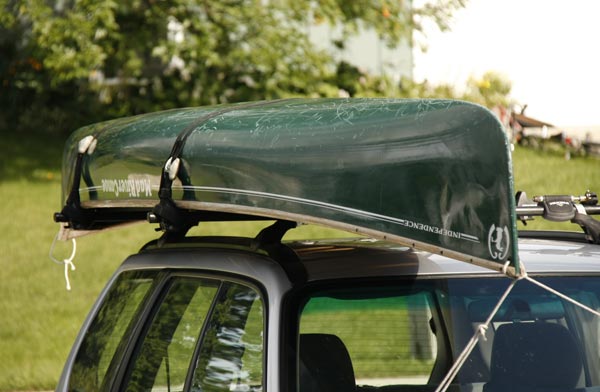 Refinishing the woodwork was interesting, since the inwales are glued securely to the deck plates.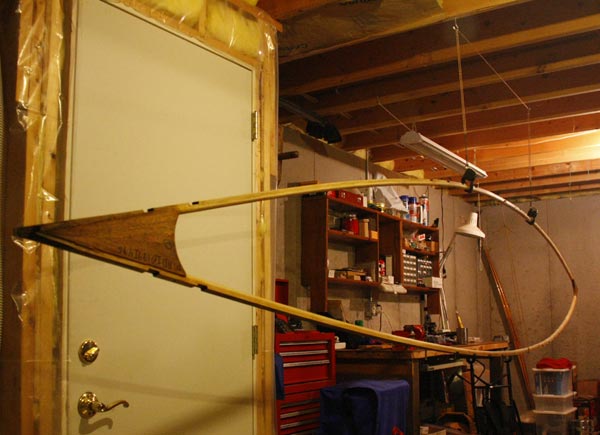 I've taken the Indy on three trips to the Boundary Waters. To trim the boat and make room for my packs I repositioned the seat and both thwarts, which means there are a few extra holes in the gunwales. I also installed custom carry yoke brackets, which left a few holes in the hull.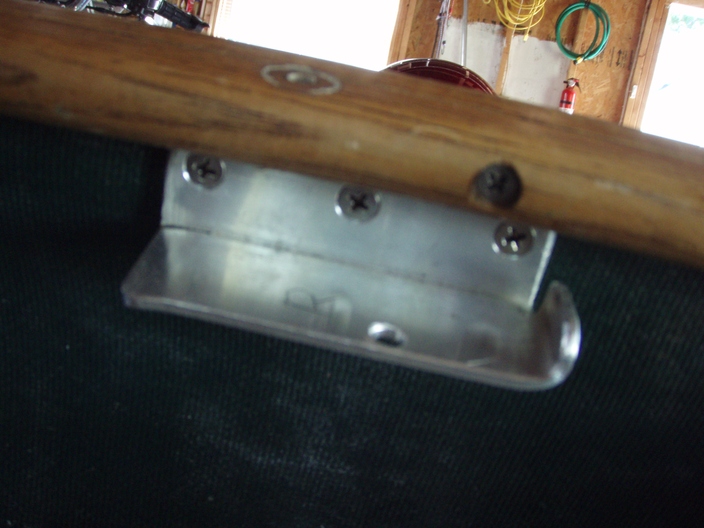 The Indy loads well.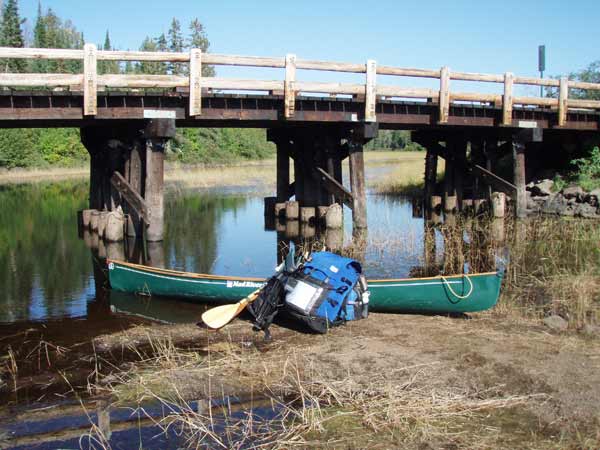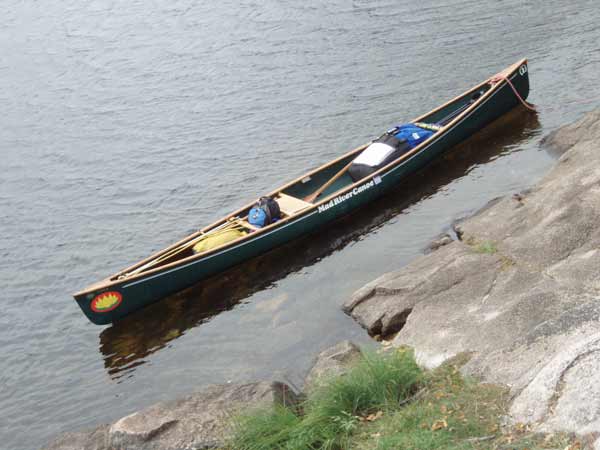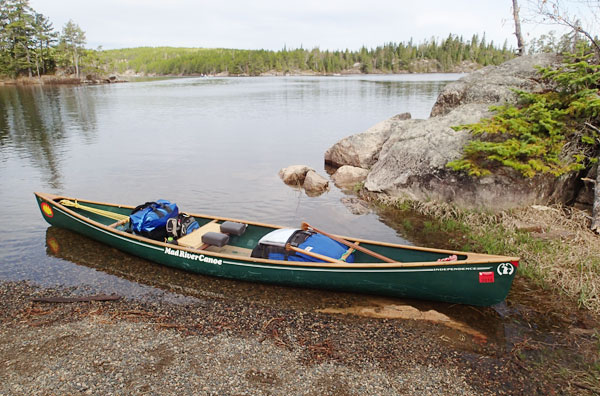 On the Mecan River, a twisty stream where the Indy is most at home: