BWCA - September 2011
Page 6: Days 9-10
Fall Lake to Basswood Lake
Day 9 – Thursday, September 15 – Fall Lake to Pipestone Bay
Today begins the second leg of the trip, though in another way it's a completely different trip. A map of the area can be found here (opens in a new window). Leave the map open and you'll be able to follow along with the rest of the trip.
Sandy thinks it's a good idea to record what we look like after taking showers, since it will be a while before it happens again. I can't help but wonder if our dispositions will be so sunny after a few days on the trail. They are.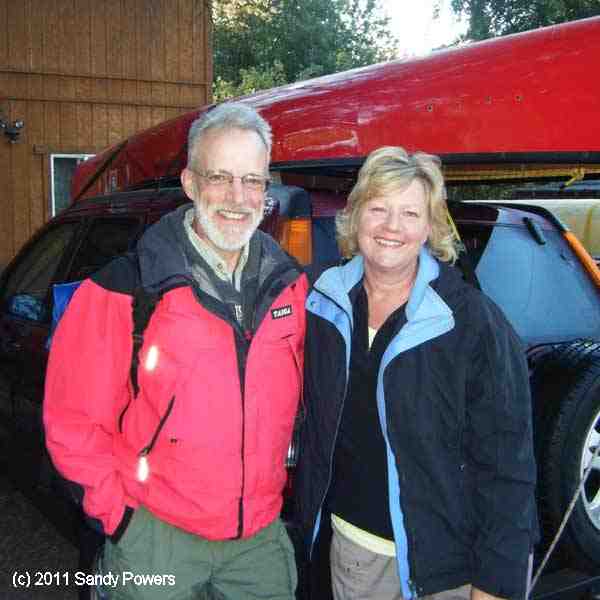 It's a very nice day: sunny and cool with a light S wind. After a trail breakfast in the bunkhouse we load up and head to Fall Lake.
Q: Do we really need this chair?
A: Yes!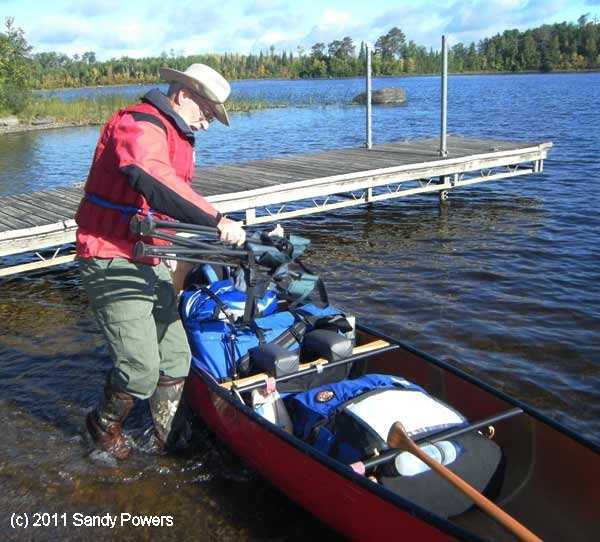 Eagles are a common sight. While on the Isabella River, two eagles flew directly toward me, passing about ten feet overhead. At our next campsite, an eagle swoops down and over me from behind - perhaps only five feet overhead - low enough to hear the air under its wings.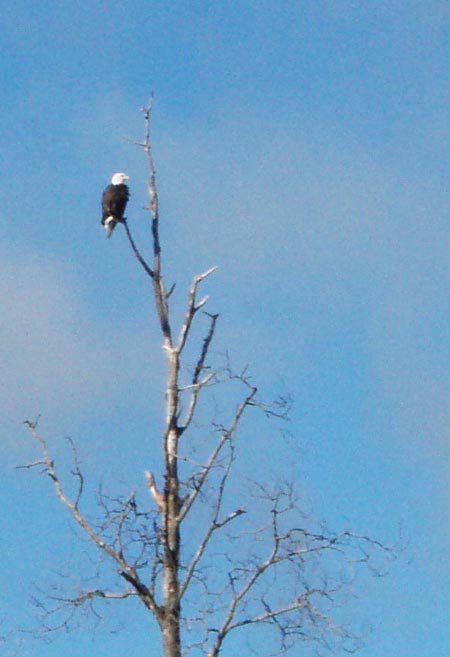 This little rock garden looks fairly open, but there are a lot of sleeper rocks just under the surface. By picking through it very carefully we make it without touching.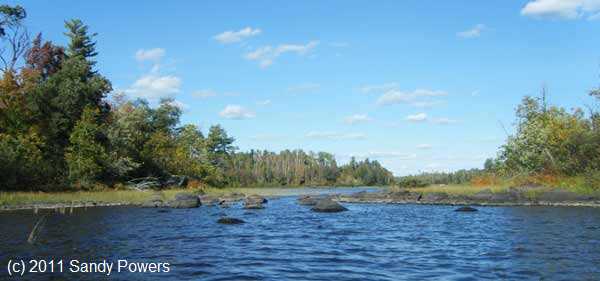 The 80- and 90-rod portages going through Newton Lake and into Pipestone Bay are boulevards, wide and smooth to accommodate the wheels used to transport motorboats from lake to lake.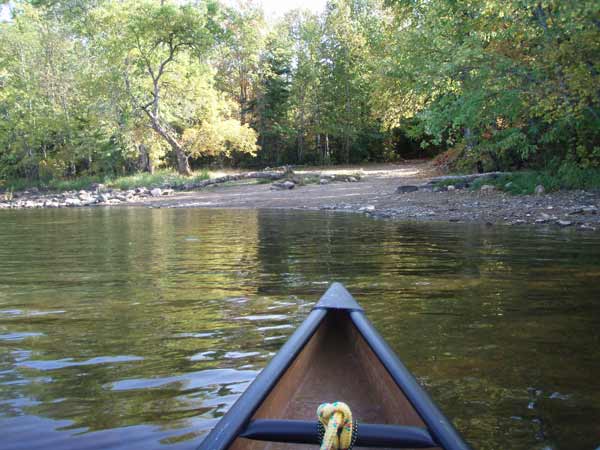 Here's a view of Pipestone Falls from the portage trail: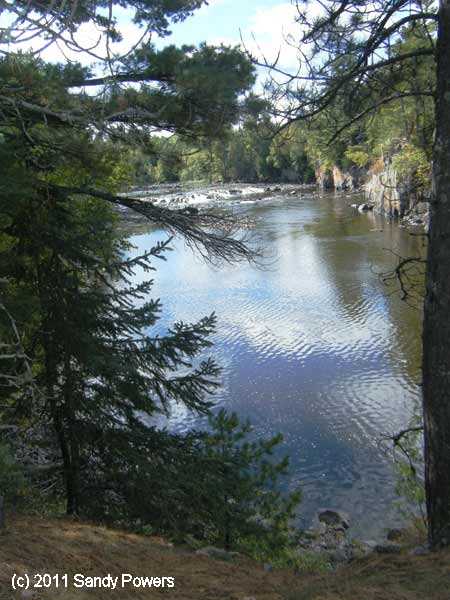 We stop at the lower end of Pipestone Bay at site 4 (C1607) that looks like it was built by a civil engineer. The sites in this area have had a lot of work, with stone steps and rock walls.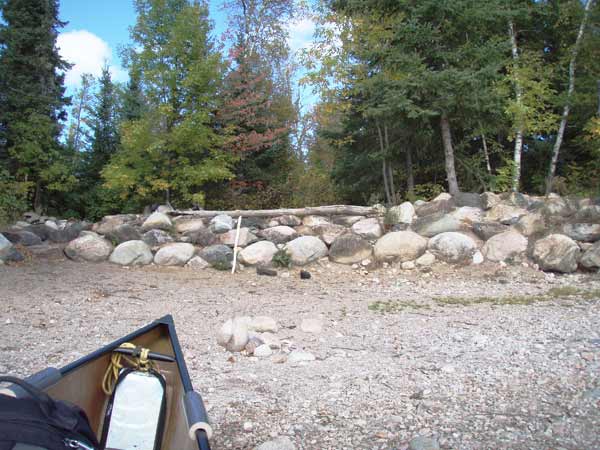 This site has enough level space for at least four tents.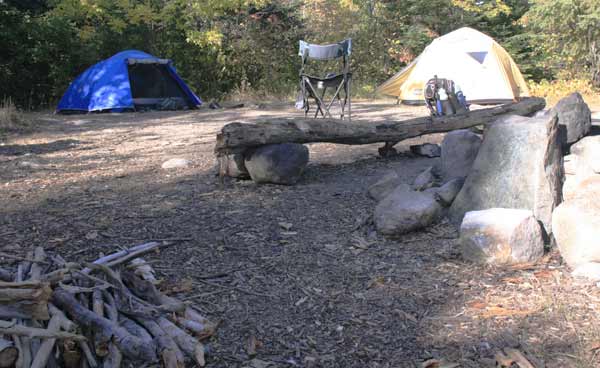 Dinner is Hawk Vittles Italian Sausage with Pasta. It's cold at night, well below freezing. Sandy sleeps well in her tent, but I'm a bit chilly.
Moonrise: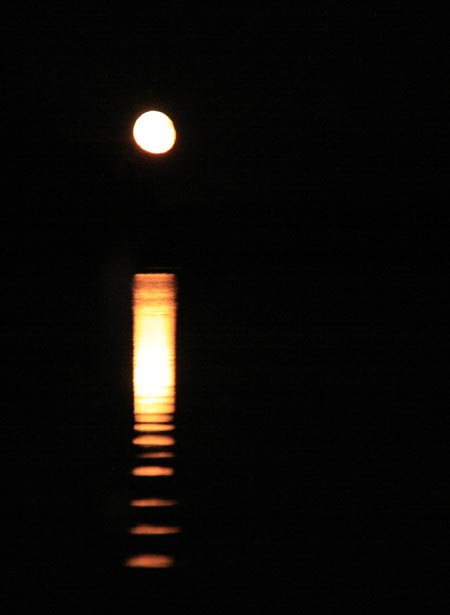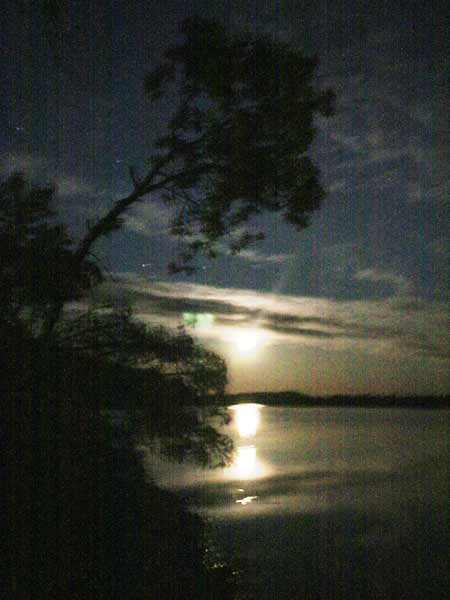 I don't take a lot of notes during the rest of the trip. I suspect that's because having company reduces the amount of contemplative time. It certainly doesn't mean it's less fun than going solo. Sandy is a great tripping partner: skillful, strong, eager, a good listener and learner, and a good leader in her own right. We learn a few things from each other. Much to my delight, she's also a good stern paddler, since I really enjoy the bow position and my new Bell paddle.
Day 9 summary:
Total distance 5.3 miles in 3:10
2 portages of 170 rods in 1:18
Day 10 – Friday, September 16 – Pipestone Bay to Basswood Lake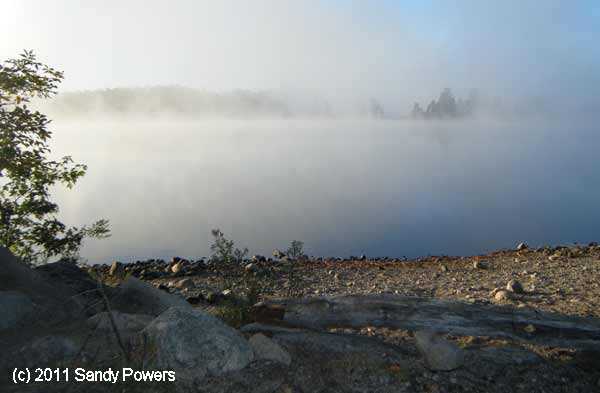 Not surprisingly, it takes a few hours to get packed up. It's chilly and clear, with frost on the canoe, but it warms up quickly. The wind is still from the south at about 5-10 so we have a nice tailwind. We head north through Pipestone Bay and into Basswood Lake. On the way we stop at this odd structure: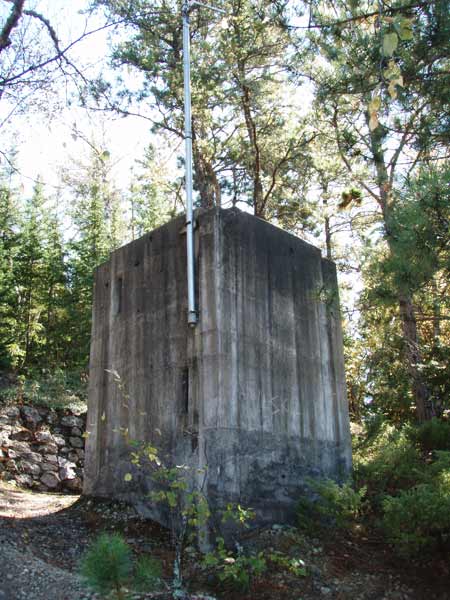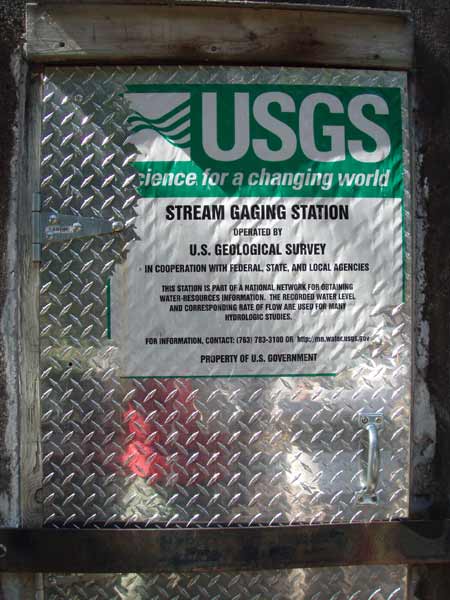 Bullet holes?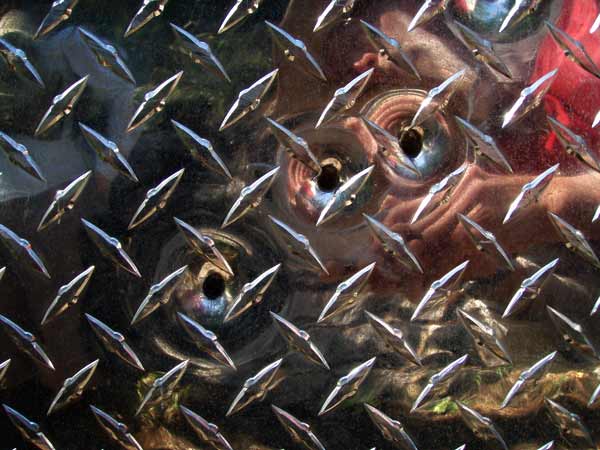 We paddle the length of Pipestone Bay and on into Basswood Lake, eventually settling at site 67 (C1539), the last one before Basswood Falls. The water is low but the falls are still loud enough to hear from our campsite; it's nice background music. We have enough time to take pictures of the area.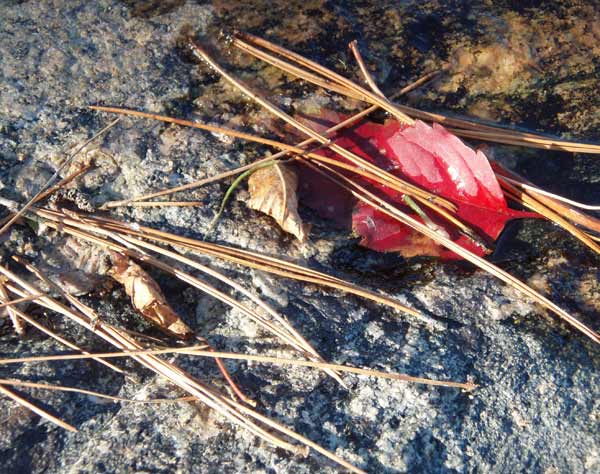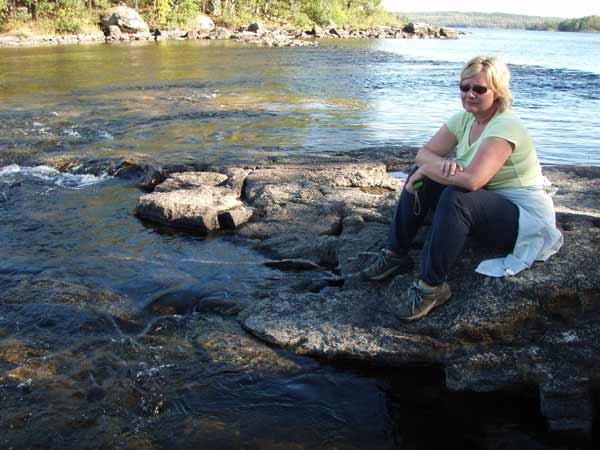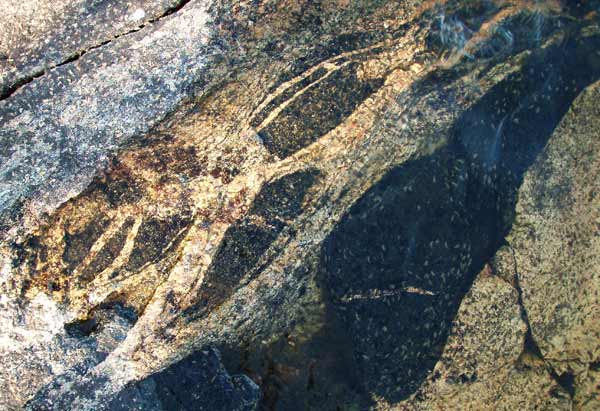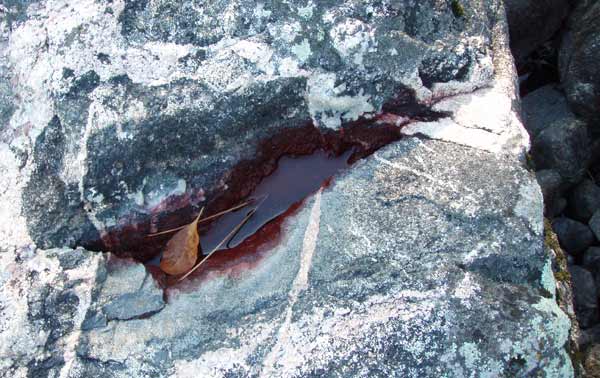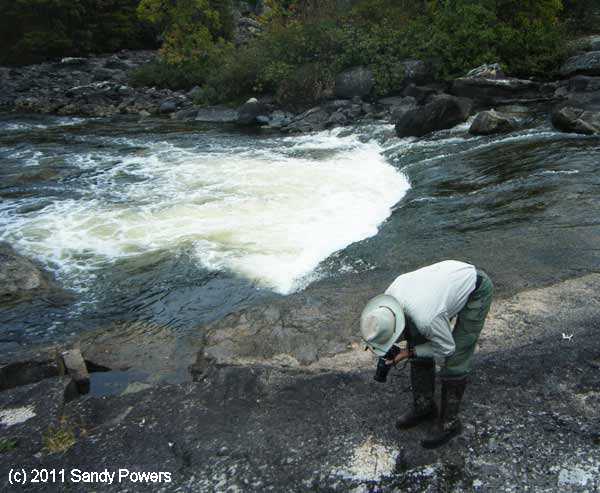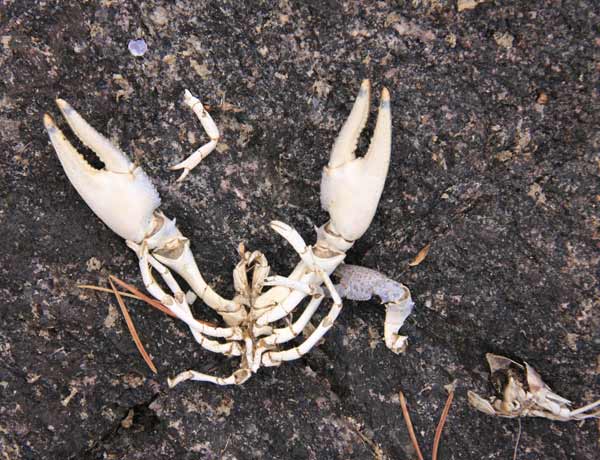 This site has a large, grassy and mostly flat tenting area with enough room for three or four tents.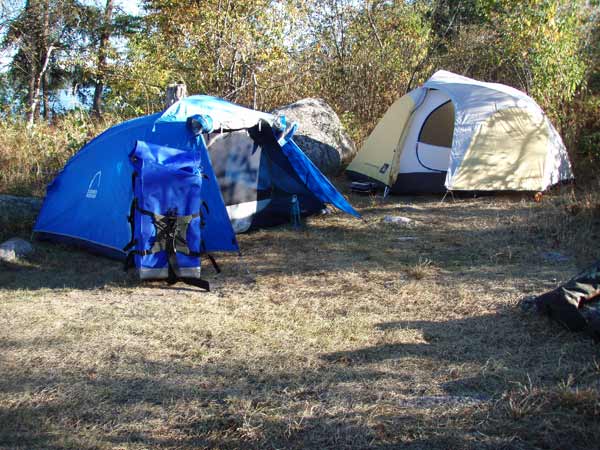 Dinner is Hawk Vittles Moroccan Stew and Cache Lake fry bead. Tonight is warmer, but not much.
Day 10 summary:
Total distance 8.6 miles in 3:00
No portages
Next: A day trip to Wheelbarrow Falls, another layover day, and then we head back