Canoe Trips
Boundary Waters:
Boats & Gear
Boundary Waters Gear List
Wenonah Prism (sold)
-cane seat installation
-thwart replacement
Boundary Waters Canoe Area Wilderness
Snowbank Lake to Lake One
With a Side Trip Down the Kawishiwi River
August 31 - September 9, 2010
Page 1: Overview
This trip is the second one for me this year. Steve, my tripping partner, is from California and it's his first time in the BWCA. I want to give Steve a good sampling of what the BW has to offer - large and small lakes, a variety of portages, some small water, and the opportunity to deal with wind and waves. Although both of us prefer to paddle rivers, we are not disappointed.
Our route is the reverse of the trip I took last September, plus a little side trip. We enter at Snowbank Lake (EP27), paddle through the chain of small lakes to Ima Lake, down to Insula, and through the numbered lakes. We take a side trip down the North Kawishiwi River and finally take out at Kawishiwi Lodge, near the Lake One entry (EP30).
The Boat
Wenonah Sundowner (18', kevlar with red gelcoat and aluminum trim) with my custom portage pads, weighing in at about 52 lbs. With two telescoping tarp poles lashed in, the portage weight is about 55 lbs.
The Gear
Paddles: Sawyer Kai 10-degree bent (bow); Bending Branches Black Widow (now called the Espresso ST, used in the stern); Grey Owl freestyle (spare).
Shelters: Sierra Designs Zeta 2 tent ( 6lbs.), Campmor quick setup dome tent (9 lbs.), CCS 10x12 tarp (3 lbs.), 6x8 lightweight poly tarp.
Packs: Knudsen Knu-Pac II pack mounted on an NRS Paragon Pack (4,800 cu. in., starting out at 55 lbs.); Kondos Outfitter Personal Canoe Pack (5,000 cu. in., around 50 lbs.), smallish Grade VI pack (maybe 3,000 cu. in., around 40 lbs.), day pack (10 lbs.), double-water-bottle fanny pack.
Water filter: Platypus CleanStream with Aqua Mira backup, LL Bean filtration water bottle lashed into the boat.
Cameras: Olympus 720SW (waterproof) and Canon 40D in Witz Sport Locker, 6 lbs. Also Steve's Pentax Optio W60 (waterproof).
Total gear weight, not counting the boat, is about 180 lbs., including 12 days' worth of food.
The Food
Meals are pretty straightforward:
Breakfast: granola with dried blueberries, raisins and currants, and a half-and-half mix of instant nonfat dry milk and Nido Milk. Also Red River cereal.
Lunch: bannock and beef jerky. One lunch is scrambled eggs with peppers, mushrooms and onions (all rehydrated) and turkey pepperoni.
Snacks: see Lunch. Several times I wished I'd brought some GORP or energy bars.
Dinner: Four Hawk Vittles dehydrated meals (Linguini with Mushroom Sauce, Shrimp Jambalaya, Moroccan Stew, and Sweet Italian Sausage with Pasta), one Mountain House dehydrated meal (Pasta Primavera with freeze-dried chicken added). We also have a few homemade meals using dehydrated ingredients: Italian gnocchi with ground beef, pasta sauce, peppers, tomatoes, grated cheese and bread sticks; pita bread pizza with turkey pepperoni; and burritos (actually a stew of Mexican rice and burrito fixings with tortillas on the side). Several dinners are accompanied by Cache Lake fry breads, a few others with cheese and onion bannock. Desserts are chocolate pudding and Scho-Ka-Kola (what is it? - Wikipedia) (where can I get it? - Germandeli).
We use a BearVault 500 because of the beef jerky, which is aromatic no matter how well it's sealed. Here's our food and a few other items. Note: plenty of TP! We came back with an entire roll.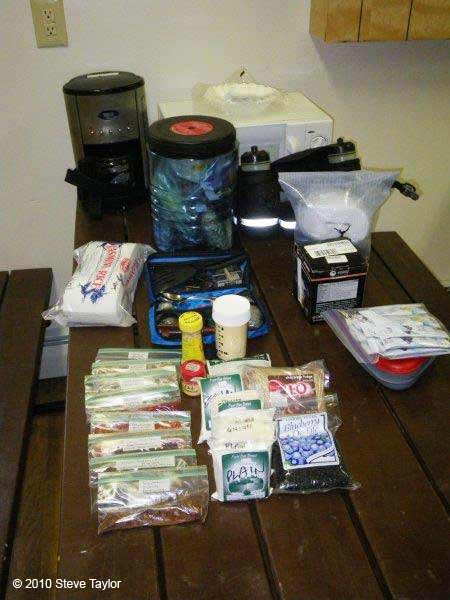 It's important to label the dehydrated stuff.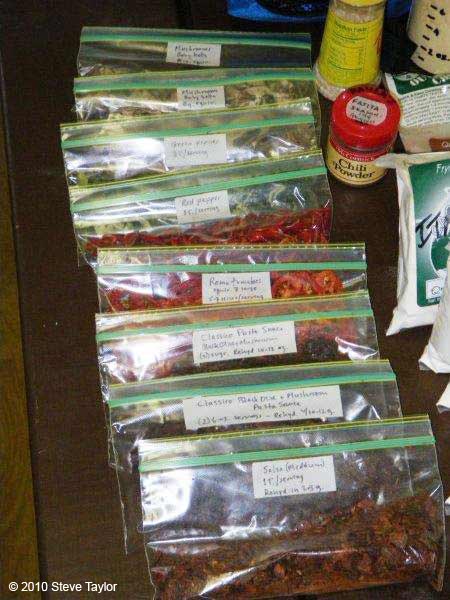 The Body
My right shoulder, which was separated in the fall of 2008, continues to hold up well. It's actually stronger now than the left one, which is probably arthritic. I have no trouble with the physical demands of the trip. As expected, I lose a few pounds on this trip, the same ones I gained back after losing them on my last trip. Steve thinks he lost 10 lbs. I think that's unlikely but I humor him.
The Map
The bow and stern map cases are hung from thwarts so they're always visible when paddling and don't have to be carried separately on portages. Despite both of us having maps, we still get turned around a few times.
A map of the area can be found here (opens in a new window). Leave the map open and you'll be able to follow along on each of the travel days.
Trip Statistics:
Total distance: 55 miles (52 miles on the water)
Traveling time: 27:35
Net paddling time: 17:35
Portaging time: 10:00
Avg paddling speed 3.0 mph
Portages: 24 covering 933 rods (2.9 miles)
Portage-walking distance: 2,800 rods (8.75 miles)
Avg portaging speed: 0.29 mph (timed from the approach to the departure and including time for taking pictures, etc.)
Note: Campsite numbers are the ones painted on the latrines. The figures in parentheses indicate the site numbers from this commonly-used file: bwca-camp+port-wpt.gdb, located at this site: http://w3.cs.jmu.edu/arch/hobbies/camp/maps/bwca/.
Pre-trip Activities
Day -2: Sunday, August 29, 2010 – The Portal (part 1)
The long portal from civilization to the real world begins.
I leave Stoughton, Wisconsin in time to pick up Steve at the Duluth airport around 2:00, and we arrive at Voyageur North Outfitters (VNO) at about 4:30. We check into our bunkhouse and have dinner at the Ely Steakhouse with Lynn, who owns VNO (along with her husband John). Steve marvels at all the canoes, since he doesn't see many in central California.
Day -1: Monday, August 30, 2010 – The Portal (part 2)
We spend the day roaming Ely, stuck in the portal. Steve wants to see the Piragis store and pick up a few last-minute items, and we also go to Zup's for some pita bread and parmesan-romano cheese. We have dinner at the Chocolate Moose (pork loin with baked pears and asparagus - yum!). Back at VNO, each of us buys a used Kondos Outfitter Personal Canoe Pack from Lynn. I've borrowed three Grade VI packs from a friend but use only one of them. The Kondos pack has a few additional features, and anyway I want one of my own. We go through all the gear, especially Steve's stuff, since he's never done this before, and pack for a quick departure in the morning.
We won't be through the portal until we're paddling, and we're both champing at the bit.
Trip report by day
Days 1-5: Aug. 31-Sept. 4 - Snowbank Lake to Ima Lake

Days 6-8: Sept. 5-7 - Ima Lake to Lake Four

Days 9-10: Sept. 8-10 - Lake Four to North Kawishiwi River and out

Lessons Learned: Equipment and Food Summary