Blackhawk Ariel
The Ariel is a Blackhawk, made in 1994. Blackhawk canoes were made by Phil Siggelkow in Janesville, Wis. until the late 1990s. Someone bought the forms and they're now being made again.
Length: 15'1"
Gunwale width: 30"
Hull configuration: Slightly fish-form, shallow-V, moderate rocker in the bow
Material: Fiberglass
Weight: 50 lbs.
It's possible the Ariel could be used as a tripping boat, but it's a bit slow due to its being fish-form (wider in front of the paddler than behind). But it's certainly buoyant enough and plenty stable. The bow is quite a bit higher than the stern, which could make paddling in crosswinds tricky.
This boat seems to have been made for moving water and flatwater; it definitely is not suited to whitewater. I absolutely love paddling small rivers, and this is my go-to boat for that setting. I thought I'd never let my Mad River Independence go, but this one replaced it.
What I enjoy most about this boat is its amazing handling characteristics. Paddled flat, it tracks fairly well, needing only slight correction strokes. Leaning it 10-20 degrees changes everything. It becomes very responsive and maneuverable. The stern section is designed to skid sideways in turns when it's leaned (especially to the offisde), and that enables it to make tight turns on request. The most amazing thing, though, is that, unlike other solo boats, all it takes to come out of a leaned turn is to level it again. Every rockered canoe I've paddled will continue turning in an increasingly small spiral. Ariel just stretches out. It's like riding a well-trained horse; you hardly need to use the reins.
I paddle mostly in southern Wisconsin. The Yahara River is very close to home, but the Sugar River, near Attica, is my favorite local stream. The Mecan River in central Wisconsin is my favorite river of all - narrow and twisty - and the Ariel dances down it like a pro. I've paddled the Kickapoo River in southwestern Wisconsin with my dog, one of the more scenic parts of the state (Codabone is a handsome fellow, but I'm talking about the river). I've also used it to teach canoeing in the pond behind Rutabaga.
Ariel had me at "hello." You might say it was love at first stroke. When I first looked at it, I knew I couldn't test-paddle it. It was breathtakingly gorgeous, but I already had a nice fleet, and I was having fun dancing down rivers in the Independence. But I was curious and just had to find out. I was impressed at its tracking and turning abilities, but what really sold me was leveling it out in the middle of a turn and seeing it go back to a nearly straight path. I was hooked in five minutes.
I've had many moments in this boat when I didn't realize I was doing correction strokes - calmly paddling along on a serene, shady river, absent-mindedly doing a little automatic "J" at the end of each stroke, not thinking about anything - just aware of the entire scene and the fact that I wasn't controlling the boat. In those moments it feels much more like we're walking hand-in-hand down a country lane. Then when a turn approaches, I simply shift my weight to one knee and guide her through. I feel very much part of the boat in such moments.
Following is a brief photo gallery, starting when I first drooled over it.

Just home from a bike-shuttle river outing: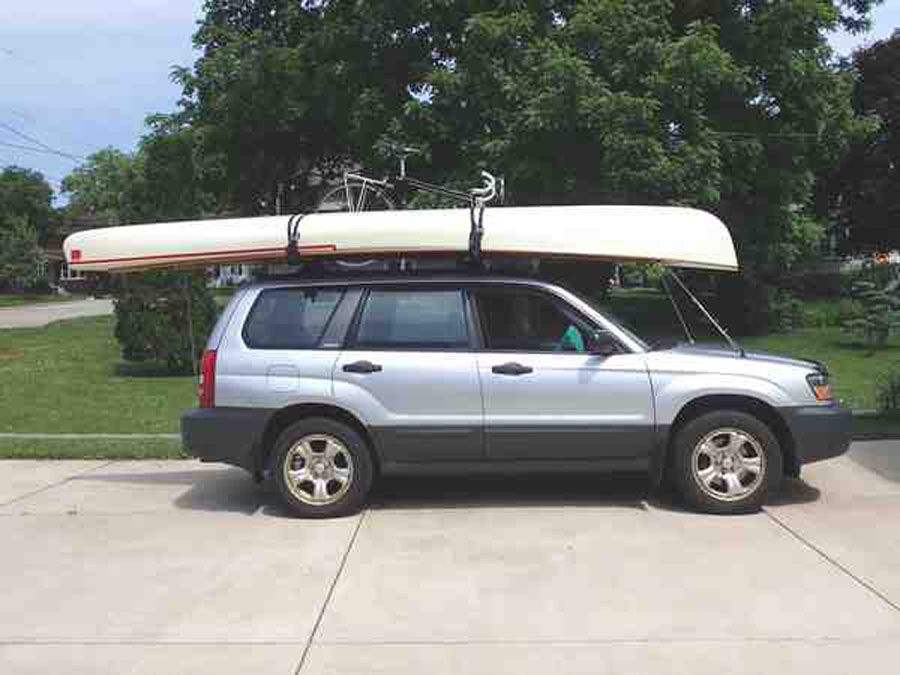 On the Sugar River: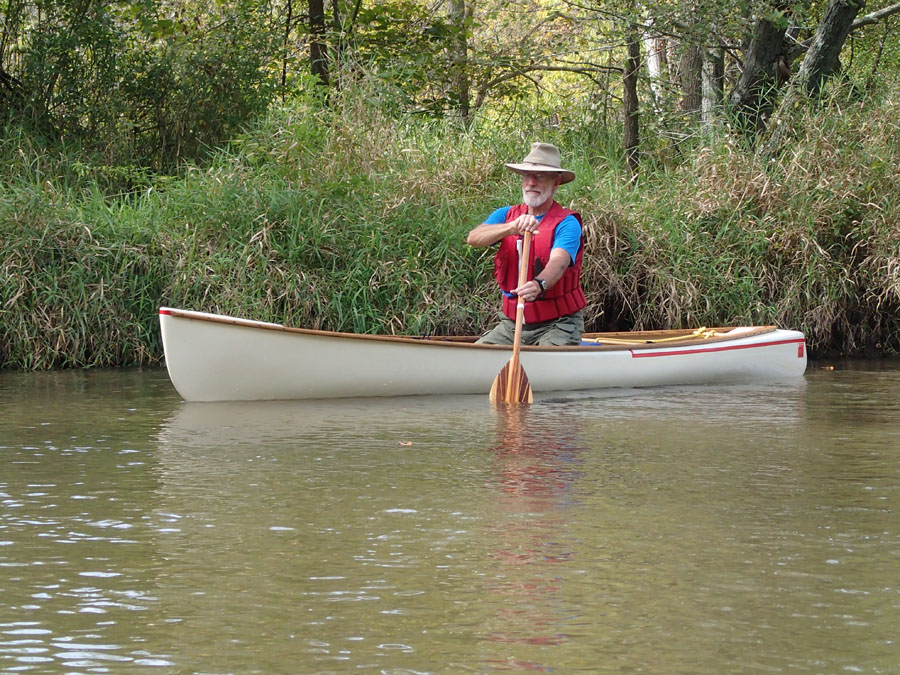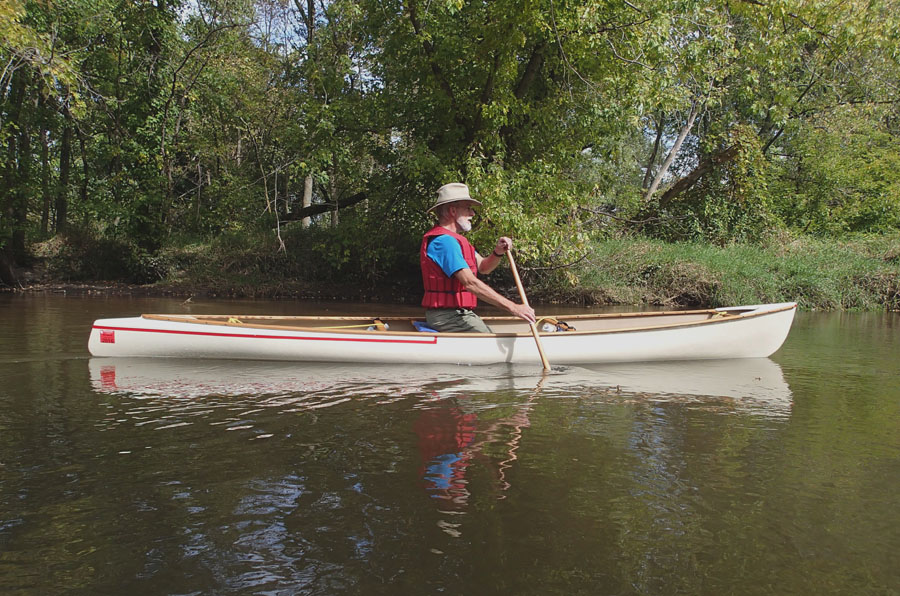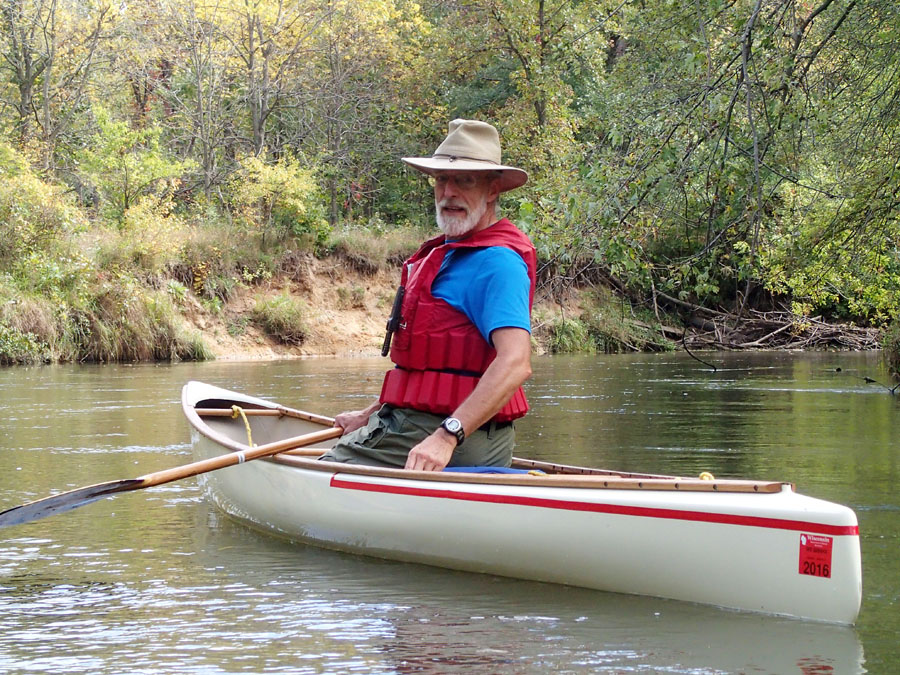 Finally, with Coda on the Kickapoo River: