Sylvania Wilderness
Fall 2007
In late September of 2007 Paula and I took a 4-day trip to the Sylvania Wilderness in Michigan's Upper Peninsula. Instead of camping in the rain and chill we stayed in a very nice cabin owned by Sylvania Wilderness Cabins at the north end of Crooked Lake. We paddled and portaged across several lakes and islands, and I took a separate solo paddle into a couple of nearby lakes.
Paula paddling our MorningStar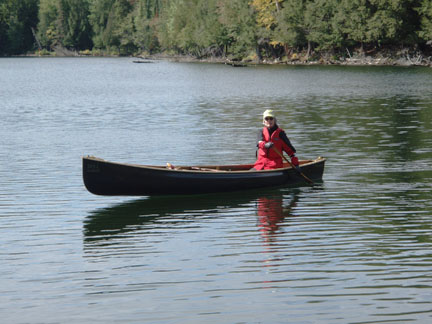 The Wildfire parked at the landing for Badger campsite (SW corner of Crooked Lake)
The Wildfire at the entrance to Corey Lake from Crooked Lake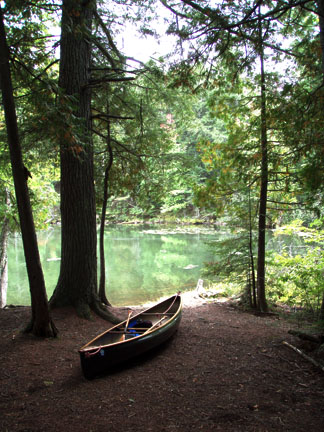 Silver maple leaves on a birch stump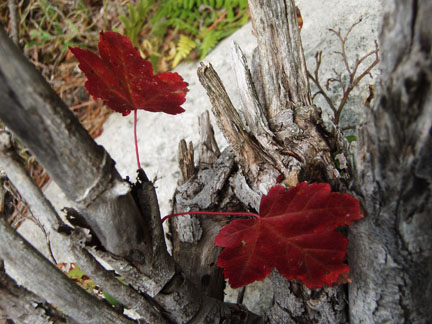 The view at the end of a portage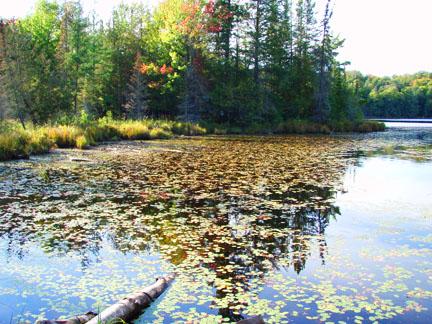 Trail-clearing
We met up with a trail-clearing crew that was removing a large wind-blown spruce tree.
Dan, the crew chief, engaged me in a bit of Paul Bunyan-ing.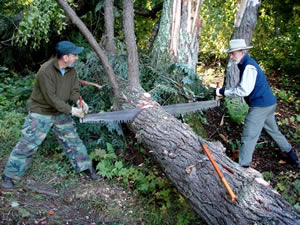 The crew was ready for the trunk when it dropped. Note the three logs under the trunk, placed there as bearings so the trunk could be rotated into its new resting place. The root end of the tree is on the left, still attached to the trunk. Dan reasoned that there would be quite a bit of tension on the root end that could cause it to fly up in the air when we cut through the trunk completely, like an anchor line being released.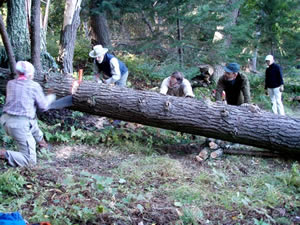 Dan was right. The root end of the trunk flew up into the air when the final cut was made. Thanks to Paula for her quick shutter finger.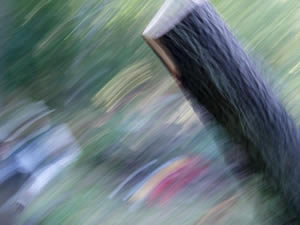 Rolling the tree-ectomy into place.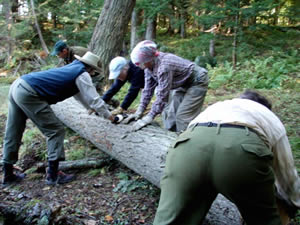 After the trail-blocking trunk section was removed.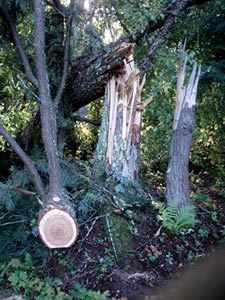 On the new bench overlooking East Bear Lake - Dan, Susan, Jan, Dave and John. In the winter cross-country skiers will appreciate this.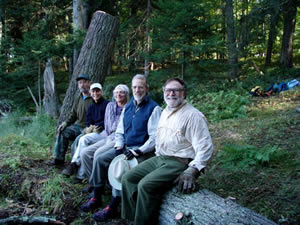 The tree was about 150 years old.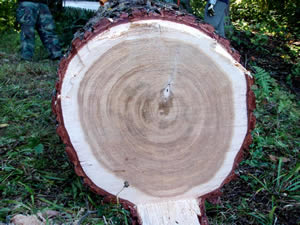 Sylvania Gothic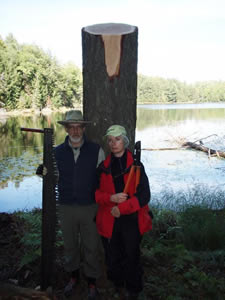 These pictures were taken with an Olympus 720SW.
Michigan Waterfalls
We took a day trip to several of the waterfalls in the area, Bond Falls and Mex-i-min-i Falls. The pictures are in a separate photo gallery.